If you're looking to secure your property without opting for an expensive, professional security system, it's hard to beat outdoor security cameras. These affordable devices make it easy to keep tabs on your home while at work or on vacation – and they often play nice with Google Home, Apple HomeKit, and Amazon Alexa, allowing you to sync them with the rest of your smart home setup.
Companies like Wyze, Arlo, Eufy, Google, Ring, and Blink lead the pack when it comes to outdoor security cameras. Products from these manufacturers are highly reliable and loaded with premium features (such as 1080p video capture, night vision, and two-way audio). They're also designed to withstand the elements, as waterproofing is standard across almost all outdoor cameras.
If you need some help navigating all the options, here's a look at the best outdoor security cameras of 2023.
We've reviewed dozens of home security cameras, from affordable models to highly secure ones, and even nighttime and weatherproof cameras, including the Arlo Pro 4, which is the best outdoor home security camera in our opinion. Here's our list of the top models.
Arlo Pro 4
Best outdoor security camera
Pros
Sharp-looking footage
Additional details with color night vision
Doesn't require a hub to set up
Smart security with Arlo Smart service
Cons
Specs are similar to predecessor
Spotlight required for color night vision
The Arlo Pro 3 was our pick for the best outdoor security camera for some time, but after testing the Arlo Pro 4, it brings a couple of new additions that help it earn our top pick. Just like its predecessor, it packs 2K video resolution and a wide 160-degree viewing angle. Also included are a weatherproof camera with color night vision, a built-in LED spotlight, and a built-in siren that can alert you to danger.
What makes this model superior is the fact that it no longer is tethered to a hub in order to talk with your home's Wi-Fi network. You won't need it this time, which certainly streamlines the setup process. And best of all, not only does it perform as exquisitely as the Arlo Pro 3 when it comes to safeguarding your home, but it now boasts a lower starting cost of $200 for a single camera, whereas the Arlo Pro 3 started at $500 for a 2K camera system.
The Arlo Pro 4 includes a three-month free trial of Arlo Smart, which gives you access to advanced features like 30 days of recording history, activity zones, enhanced 911 calling, and advanced detection features.
Arlo Pro 4
Best outdoor security camera
Best budget outdoor camera
Pros
Solid construction
Excellent battery life
Local storage
Affordable price
Works offline
Cons
App has some quirks
Inconsistent video quality
Weak speaker
Wyze had a home run with its indoor wireless security camera and replicated the success with its first outdoor camera, the aptly named Wyze Cam Outdoor. The latest version has an IP65 rating, which ensures that the cam can weather even blizzards and summer heatwaves, making it a great option for many different climates.
The specs on this surveillance camera also impress. The Wyze Cam Outdoor covers all the basics with an outdoor camera, featuring 1080p recording, night vision, two-way audio, and a handy time-lapse mode. What makes it incredibly versatile is that it can be used indoors, or even on the go when you're on vacation. Voice compatibility with Alexa and Google Assistant is included.
When you factor in all of these features with the Wyze Cam Outdoor's low cost, it's an easy choice for an affordable security camera system. Note that this particular bundle also includes a base station you will need to mount to receive the video data from the cam. An SD card slot is part of the device if you want to record on local storage. The battery is rated for six months before needing to recharge.
Eufy SoloCam L40
Best outdoor camera without a subscription
Pros
Built-in onboard storage
2K resolution
AI to ignore animals and trees
Eufy's reliable cams make excellent outdoor picks, and this latest wireless model has plenty of strong features to make it a contender. However, what makes Eufy attractive to many buyers is that there's no extra monthly fee for storage. No video is uploaded to the cloud. Instead, storage is handled via an 8GB onboard storage component that's automatically encrypted for safety. There's also a card slot for expanding storage if you don't want to retrieve footage as often.
The SoloCam L40 also impresses with its detail-oriented 2K resolution, the built-in spotlight, and color night vision. It operates via a motion sensor, which can also trigger the 600-lumen spotlight (you can adjust the brightness and color temperature, too). Two-way audio can be enabled upon triggering. AI tech helps keep the camera from triggering on things like swaying branches or animals, too. The device is also compatible with both Google Assistant and Alexa.
However, Eufy has recently been the subject of privacy concerns, with questions about its encryption method popping up multiple times over the past few months. The company seems to be back on track (and the SoloCam L40 is still an excellent product), but just be sure to do some extra research on this one to ensure you feel comfortable with the company's latest statement.
Eufy SoloCam L40
Best outdoor camera without a subscription
Wyze Cam v3
Best outdoor camera for night vision
Pros
Very affordable
Works both indoors and outdoors
More detail with color night vision
Tons of security controls
Night vision is a vital feature for every outdoor security cam — you don't want the darkness to hide any detail, especially if something like a break-in happens. While our top cam picks include various kinds of night vision, Wyze's indoor/outdoor cam is particularly notable thanks to its Starlight Sensor, which can record night-time video in full color for users.
This wired cam includes all the other smart features that make Wyze's cams a great pick, including a motion and sound sensor for alerts, detection zones, sensitivity settings that you can tweak for best results, and two-way audio for communication. It's also compatible with Alexa and Google Assistant and is friendly with IFTTT if you'd like to set up complex routines based on the alerts the cam gives you.
The Wyze Cam v3 also has one of the best free video storage options around, with a 14-day cloud storage option for video clips at zero cost. There's also an SD card slot for local storage if you prefer that method. While it's an indoor/outdoor cam, you don't need to worry: All the outdoor IP65 resistances are included for all types of weather.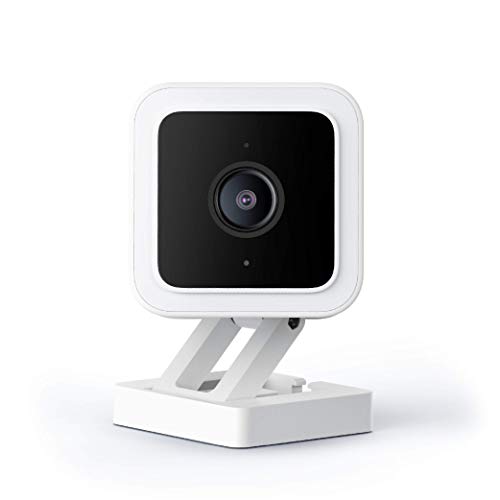 Lorex Dual-Floodlight V261LCD-E
Best outdoor camera for cold weather
Pros
High weather resistance
Bright dual spotlights
SD card included
You don't need to worry about winter temperatures with this model, thanks to its IP65 rating that can endure -40 degrees Fahrenheit, suitable for even the coldest winters in the country. It also has particularly bright, 2,000-lumen, dual-LED floodlights (excellent for illuminating a large area at night) that can be triggered by motion cams. App controls also allow you to set manual start times and schedules for the lights.
That's just the start of what this winter-ready Lorex cam can do: It also includes a two-way audio option, compatible with Alexa and Google Assistant devices, and the expected motion alerts for your phone. There's no subscription plan or cloud sharing for this cam. Instead, it comes with a 32GB microSD card and port for free native storage. You can upgrade the model up to a 256GB card for extra space, which may be a good idea if you put the camera in a place that's difficult to reach without a ladder, such as above a garage.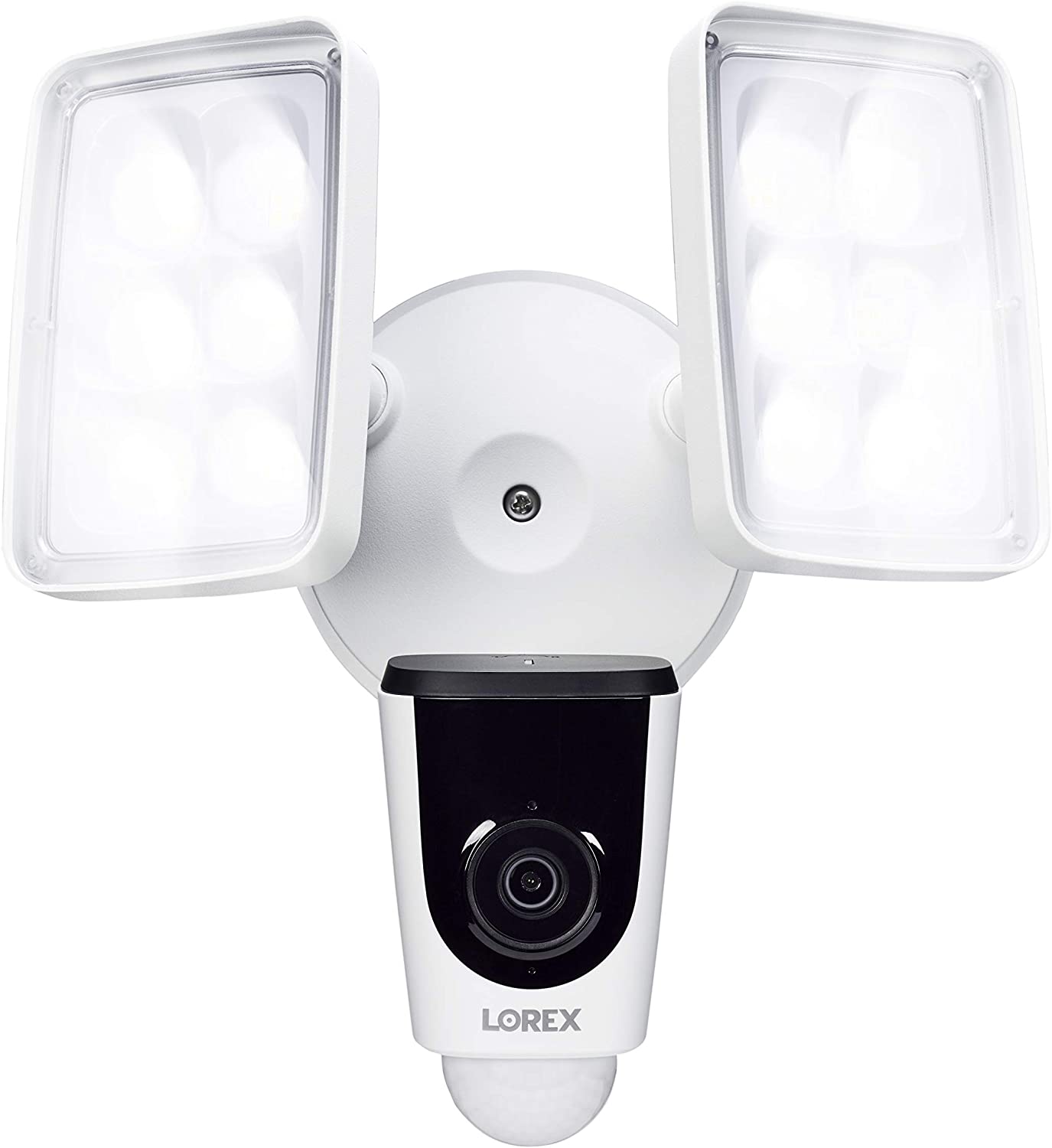 Ring Spotlight Cam Pro
Best wireless outdoor security cam
Pros
LED spotlight design for effective lighting
Battery power
Two-way audio
Extra features like a siren and Bird's Eye view
Cons
Really needs the Ring Protect plan
Amazon's update to the Ring Spotlight Cam is an excellent option for those who don't want a full floodlight camera, but would still like lots of illumination for their porch, patio, or driveway. The surprisingly bright LED lights on either side of the cam can be set to light up along with the motion detection features.
There's a little bit of everything packed into the Spotlight Cam Pro's design, including basics like 1080p video, night vision, and two-way audio. But Ring also has some extras, like a siren you can sound, advanced 3D motion detection, and a "Bird's Eye" view option that gives you a model for where a subject may have gone. We also like that it's battery-powered with an option to plug into an outlet.
As with all Ring cams, you will really want a Ring Protect plan to enable video storage and video sharing, but otherwise, this is the most comprehensive wireless security cam we've seen to date.
Google Nest Cam 2nd-gen (battery)
Best value security camera kit
Pros
AI-powered object recognition
Excellent battery design
A full set of abilities including night vision, zoom, and two-way audio
Free hours of video storage
Works with Google Home and Alexa
Cons
Still significantly more expensive than our budget picks
Google's Nest Cam benefits greatly from Google's AI technology that can recognize people from cars, identify packages, and (with a subscription) do much more. While there is a wired version of this cam, we like the battery option for its versatility. We also love that it's one of the few cams that offer free online video storage – three hours worth – for free, although a Nest Aware subscription does add other benefits.
Nest works with both Google Assistant and Alexa these days, so you don't have to worry as much about which voice assistant you use. The cam itself is highly capable, with 1080p HDR video, night vision, zoom, two-way audio, and a variety of intelligent alerts. The snap-on mount is also a great way to make installation easy, no matter where you're putting it. There's even a feature to keep recording when the power goes down and save an hour of footage into local memory for review.
If the battery option isn't really your thing, you do can purchase a weatherproof outdoor cable and wire the cam into place as well.
Arlo Pro 5S 2K
Best premium outdoor security camera
Pros
Captures 2K footage
Low Power mode extends battery life
Impressive 160-degree field of view
Cons
Expensive
Very similar to the more-affordable Arlo Pro 4
The Arlo Pro 5S 2K doesn't cut any corners. Featuring a camera that captures 2K video, a wide field of view, sleek design, and color night vision, few products can match its performance. Unfortunately, all those features come at a price, as the Arlo Pro 5S 2K clocks in at $250.
That makes it one of the most expensive security cameras on this list, but if money is no object, it deserves a closer look. Not only does it offer every feature found on our beloved Arlo Pro 4, but it also features Dual-Band Wi-Fi for simplified installation, SecureLink Connectivity that allows it to stay protected during power outages, and a Low Power Mode that offers a 30% boost to battery life.
But beyond those features, it's eerily similar to its cheaper sibling. Still, if you need an outdoor security camera that's as cutting-edge as possible, you can't do better than the Arlo Pro 5S.
Blink Wired Floodlight Camera
Best affordable floodlight camera
Pros
Affordable
Produces 2,600 lumens of brightness
Wired connection
Blink makes plenty of great outdoor cameras, but few are as great as the Blink Wired Floodlight Camera. As one of the newest members of the Blink family, the Wired Floodlight Camera offers heaps of functionality despite its budget-friendly price of $99.
In case the name didn't give it away, the Blink Wired Floodlight Camera isn't just an outdoor camera – it's also a floodlight. And a bright one at that, capable of producing 2,600 lumens of LED light. You'll also benefit from motion detection, a wired connection that offers a constant power supply, and color night vision. Its design is a bit bulkier than others on this list, but that's largely due to the massive floodlights that loom over the camera.
Anyone in the market for an outdoor camera that's both affordable and powerful (and comes with shockingly bright floodlights) should give strong consideration to Blink's new product. But if you're looking for something with a more streamlined design, consider looking back at the Ring Spotlight Cam Pro mentioned earlier in our roundup.