Roblox is a well-established metaverse where you can share Roblox gaming projects and creations in real time. Despite the game's age, the platform is here to stay, so there is always time to get started with Roblox. But you may opt for some of Roblox's most luxurious resources and features to get ahead of the curve. For example, stocking up on Robux, the metaverse's premium currency, may net your account some attractive cosmetics and provide access to private servers. Or you can always convert your riches into Roblox Credits. Later, Roblox Credits may be transformed into Robux or used to pay into the Roblox Premium membership instead.
After all, Roblox is a time sink worth every penny you've spent, thanks to the endless opportunities you can experience on your shiny new Chromebook, tablet, and phone. Today's guide covers how to redeem a Roblox gift card to earn those sweet Robux credits while explaining the featured premium benefits.
How to redeem a Roblox gift card
Unfortunately, the Roblox app doesn't directly support redeeming Roblox gift cards, so it requires you to log in on a mobile web browser for this process. However, we've streamlined this process for you below.
Open your mobile web browser and enter the URL http://www.roblox.com in your address bar.
Tap on Continue in browser to navigate to Roblox's main website.
On the next page, enter your Roblox login details to continue.

You'll be redirected to your account's home page. If not, tap on Continue in browser.
Scroll down to the bottom of the home page and find/tap on Gift cards .

You'll be redirected to Roblox's gift cards page. Tap on Redeem, located at the very top of the page.
Enter the empty Code field with your Roblox gift card's code, then tap Redeem to finish. You can redeem Roblox Credit or Robux.

You'll receive a success message once you've redeemed your card. You can tap Use Credit if you want to spend immediately or close the page to maintain your balance for future purchases.
We've determined it is impossible to buy Robux with your Roblox gift card set as your payment method on the iOS and Android app. Essentially with Android, your linked Google account handles purchases done within apps on the Google Play Store. But you can redeem a Google Play Store gift card as a quick workaround. For iPhone and iPad users, you can use Apple gift cards.
Where to locate your credit balance
You can check your credit balance on (1) the Gift Card redemption page or (2) visiting the Billing Settings page. Ensure you're logged into your account before visiting either page. The credit balance is found under the Redeem button on (1) the Gift Card redemption page, and the same balance can also be found under Roblox credit when (2) visiting the Billing Settings page.
Receiving virtual items from Roblox gift cards
Purchasing and claiming Roblox gift cards includes freebies (often cosmetic). These virtual items become automatically added to your account after redeeming your card. However, there is a limit of one unique virtual item per account, and these items swap monthly.
Redeeming Roblox Credit into Robux versus buying a premium membership
Redeeming a Roblox gift card opens up several options on your account. The first is choosing to convert the funds into Robux, Roblox's primary virtual currency. The second is to buy Roblox Premium, Roblox's subscription service. If you're looking for immediate funds to spend, Robux is the best option. Still, you may opt into Roblox Premium to unlock extra perks and features to benefit your overall experience on the platform; in either case, you'll still acquire Robux.
Roblox Premium membership plans
Roblox Premium replaced the Builders Club when it rolled out; the available tiers reference how much Robux you'll acquire monthly with your membership.
Premium 450 ($5/month)
Premium 1000 ($10/month)
Premium 2000 ($20/month)
Unlocking Roblox Premium will allow you to gain a 10% Robux purchase bonus, the ability to trade items, exclusive discounts in the Avatar Shop and bonus accessories, and access to premium-only items found in experiences.
Roblox credit change and conversion
As of April 2023, Roblox credit won't be denominated based on the US Dollar but instead in your local currency; Roblox didn't support most currencies natively, so by default, everything became converted based on the US Dollar. As a result, you might receive less Roblox credit/Robux than previously acquired.
Where to buy Roblox gift cards
You can obtain Roblox gift cards digitally or buy a physical copy at an applicable retailer. Check out the Roblox gift card page to see which options are available in your location. For digital purchases, tap on the retailer logo to be redirected to the purchase page.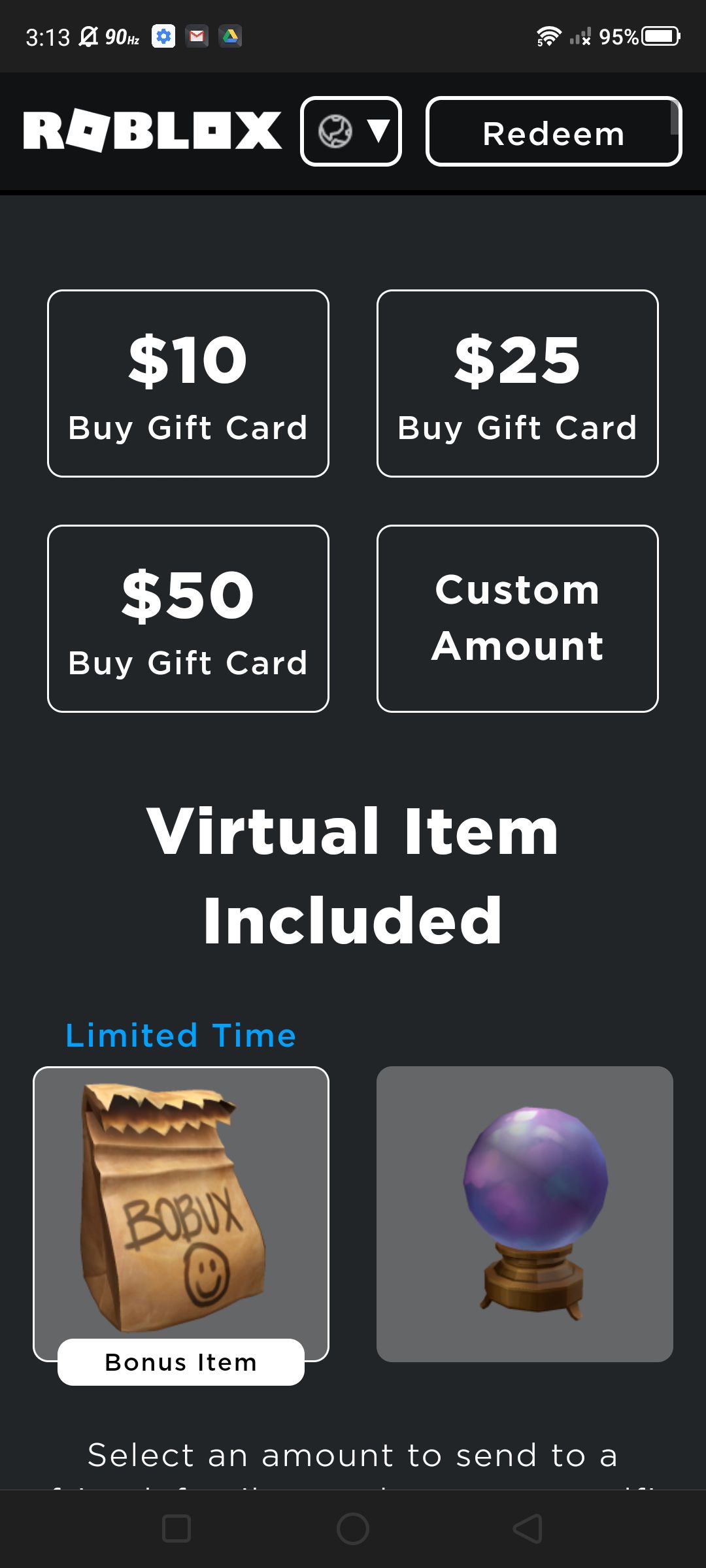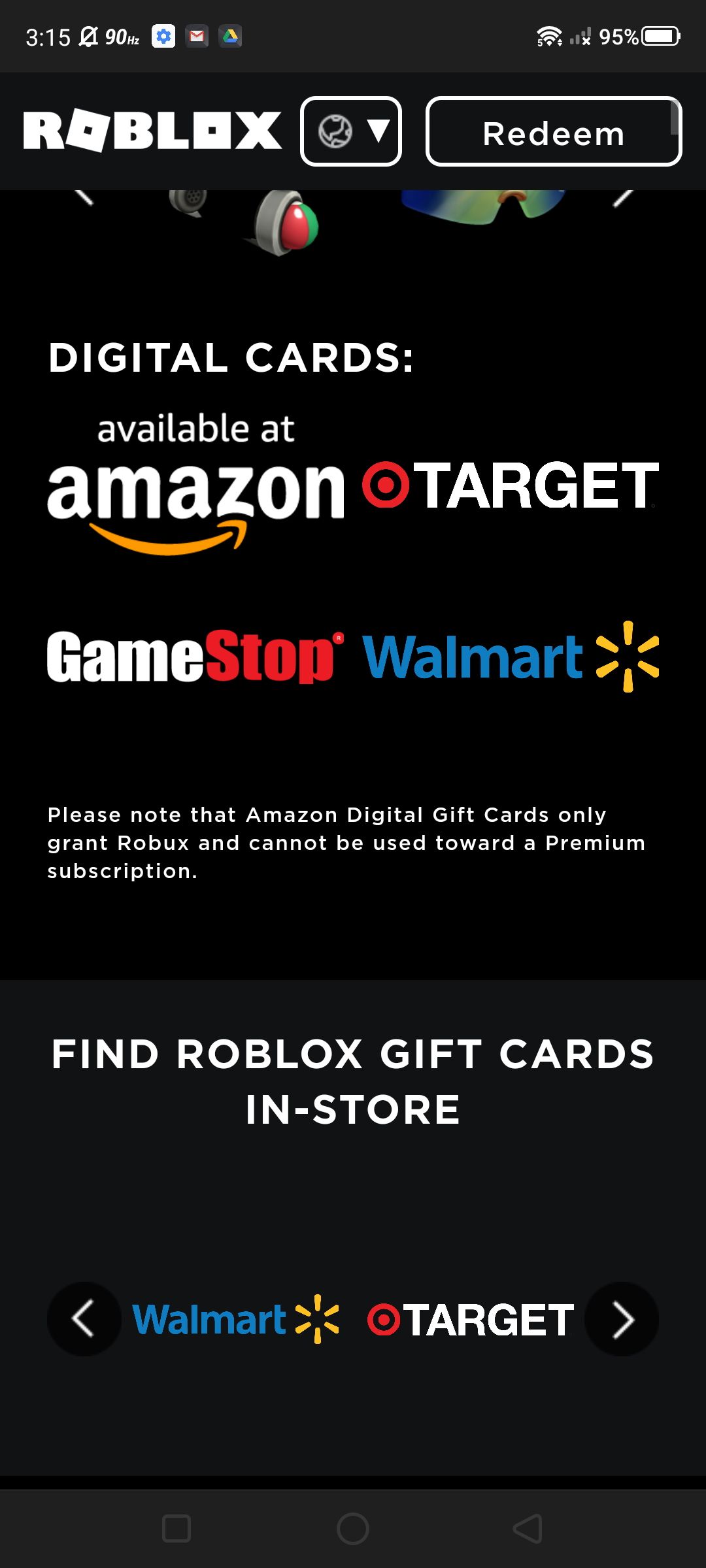 The easiest method (and one of the safest) to purchase a gift card is by obtaining one directly on the Roblox gift card page. There are two options on this page: A Friend or For Me; ensure you fill in the empty fields before proceeding. Once you've navigated to the next page, you will select the card for digital (email delivery) or physical copy (sent in the mail). You must choose the correct currency for your recipient; Roblox will not allow you to redeem gift cards from another country of origin.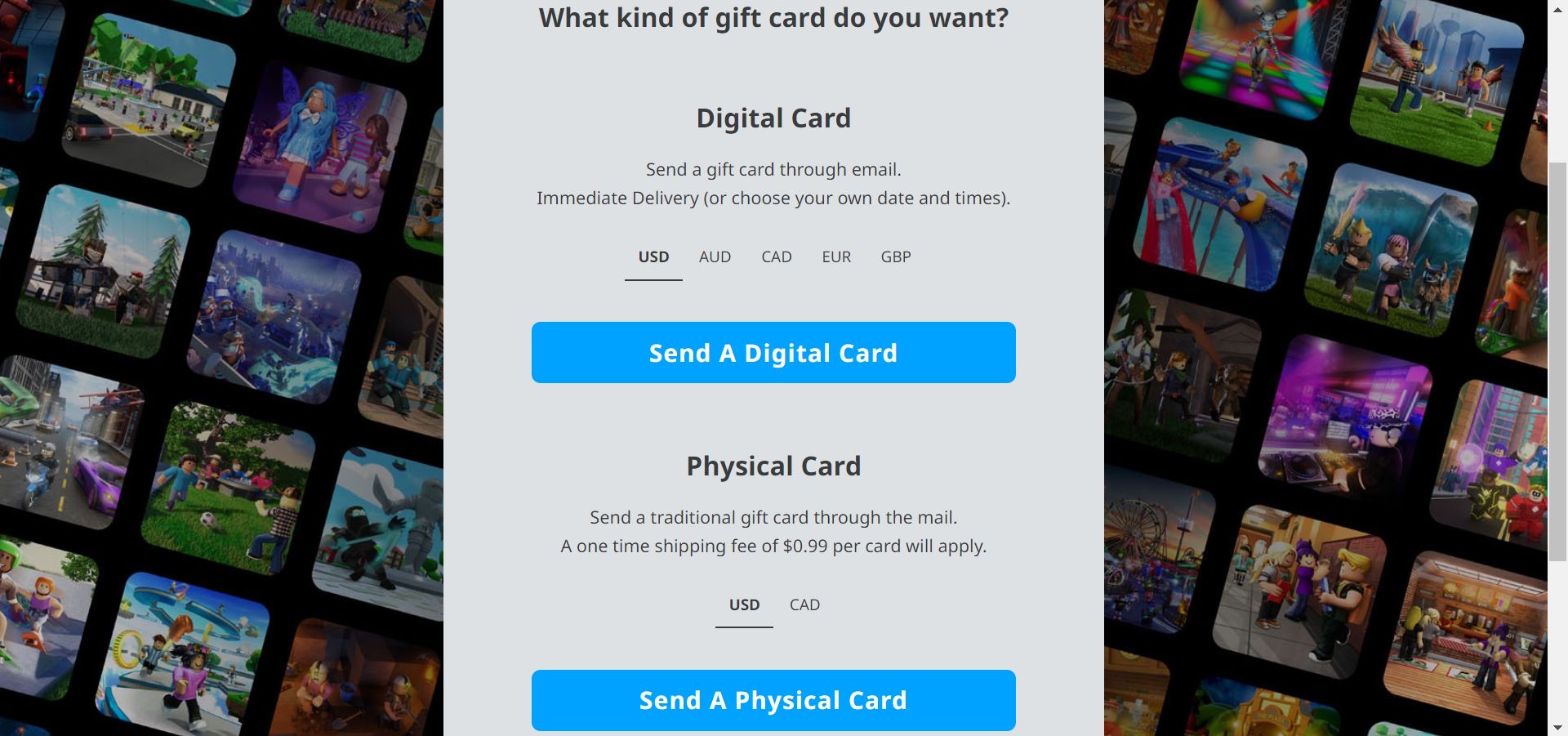 Note: If you are sending a physical copy, you must input a valid address and pay an additional fee during checkout; you'll also have to wait for the card to ship.
Once you've added the amount, click Add a Message (it is optional to write a message, but you need to visit this page to proceed to checkout). After adding the recipient's address or email, you can finalize the order after selecting a delivery date.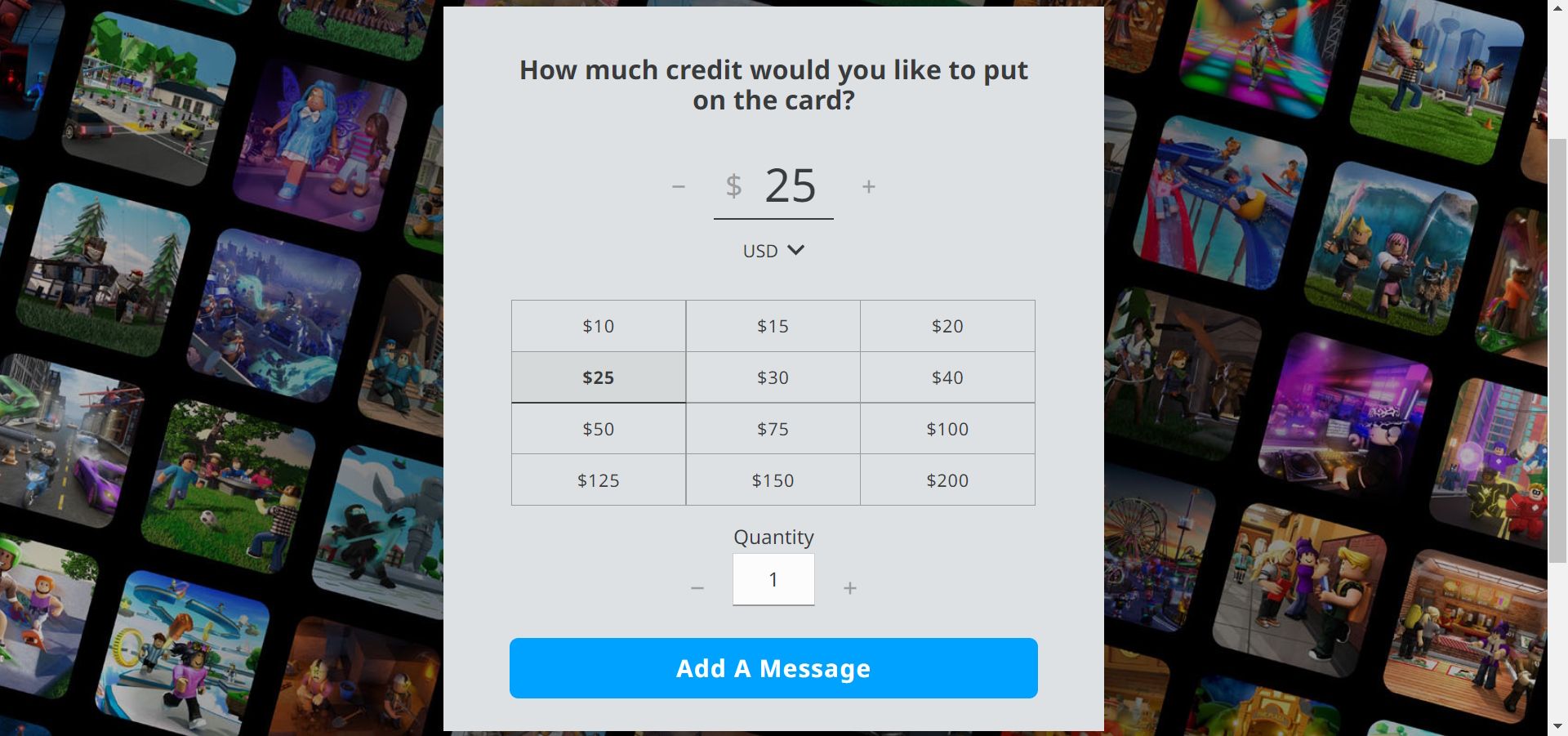 Problems redeeming your Roblox gift card
Sometimes redeeming Roblox gift cards isn't smooth sailing, and you may encounter issues like being sold a faulty card, falling for a scam at a retailer (it can happen), or potentially having a damaged card issued to the buyer. Thankfully there's a way to contact Roblox Support in these unfortunate cases.
Steps to take when contacting Roblox Support
You must take clear pictures of your Roblox gift card and upload and record all the information listed below. The time it takes to open and close a ticket will vary depending on the overall ticket volume, so it's best to remain patient and keep tabs on your messages and emails.
Reach out to Roblox Support.
Provide images in PNG or JPEG for your card(s).
Include the following information (source: Roblox Help page):
Roblox Help<\/a>"" data-modal-id="single-image-modal" data-modal-container-id="single-image-modal-container" data-img-caption="null">

Can you redeem a Roblox gift card outside of your country?
The simple answer is no; the purchased physical gift card must match your account's country (effective April 24, 2023). So, for example, if you live in the US, you cannot buy and redeem a gift card from Canada if you have a US account. Unfortunately, this could put a damper on gift exchanging with your friends who may reside in different countries and for taking part in community-based giveaways — or worse, if you're a developer being sent gift cards as payment.
However, there's still a loophole for global exchanges. Digital gift cards can still be redeemed globally, which may be the option to lean into for gifting internationally.
Get started with Roblox today
Now that we've highlighted the tools and ways to enhance your Roblox creations and account, you can begin your voyage into this famed metaverse via the Roblox mobile app. But all new journeys start somewhere, so we've attached the Play Store widget below for anyone eager to get underway — remember that Roblox encompasses a growing community with a mutual interest in game creation and metaverse building.