There are no two ways about it: smartphone competition in the US is dryer than it's ever been. With Apple taking an ever-growing lead and Samsung dominating much of the Android-owning audience, finding an alternative is proving to be a difficult task. Google's Pixel series continues to grow, and OnePlus has courted its power-user fans all while remaining tethered to its parent company's software. And then there's Motorola.
In the wake of LG's exit from the smartphone market, Motorola has picked up plenty of new customers, with shoppers drawn in by the company's wide breadth of options available at nearly every carrier. Despite this growth, true flagship phones have been few and far between over the past half-decade, and the handful we've seen haven't been anything to write home about. But the latest Moto Edge+ sees the company putting a new step forward, suggesting a potentially bright future for the Lenovo-owned brand.
Moto Edge+ (2023)
Motorola's latest flagship phone is its best in years, pairing powerful specs with a beefy battery and a relatively affordable price point. Although the camera can't hold a candle to what Google and Samsung offer, it can compete with the likes of OnePlus, all while delivering the closest experience to stock Android you'll find in the market today.
SoC

Snapdragon 8 Gen 2

Display

6.7″ quad curved FHD+ pOLED 165Hz panel (2400×1080)

RAM

8GB

Storage

512GB UFS 4.0

Battery

5,100mAh with 68W fast-charging, 15W wireless charging, and 5W power share

Operating System

Android 13

Front camera

60MP | f/2.2 aperture, 0.61μm pixel size, Quad Pixel technology for 1.22μm

Rear cameras

50MP 1/1.5″ optical format with f/1.8 aperture, 1.0μm pixel size with Quad Pixel technology for 2.0μm, PDAF; 50MP f/2.2 ultrawide with 114° FOV; 12MP 2x telephoto portrait, f/1.6

Dimensions

161.16 x 74 x 8.59mm

Colors

Interstellar Black

Weight

203g

IP Rating

IP68

Price

$800
Availability and network
If you're familiar with Motorola's lineup, it should come as much of a surprise that the Moto Edge+ (2023) is being sold through the usual channels as an unlocked device. It's available through Amazon, Best Buy, and Motorola's own website for $800 in a single 512GB/8GB SKU. Although you'll find smartphones on the market with more RAM, 8GB is plenty for most tasks on Android, and the massive storage allotment helps make up for the lack of a microSD card slot.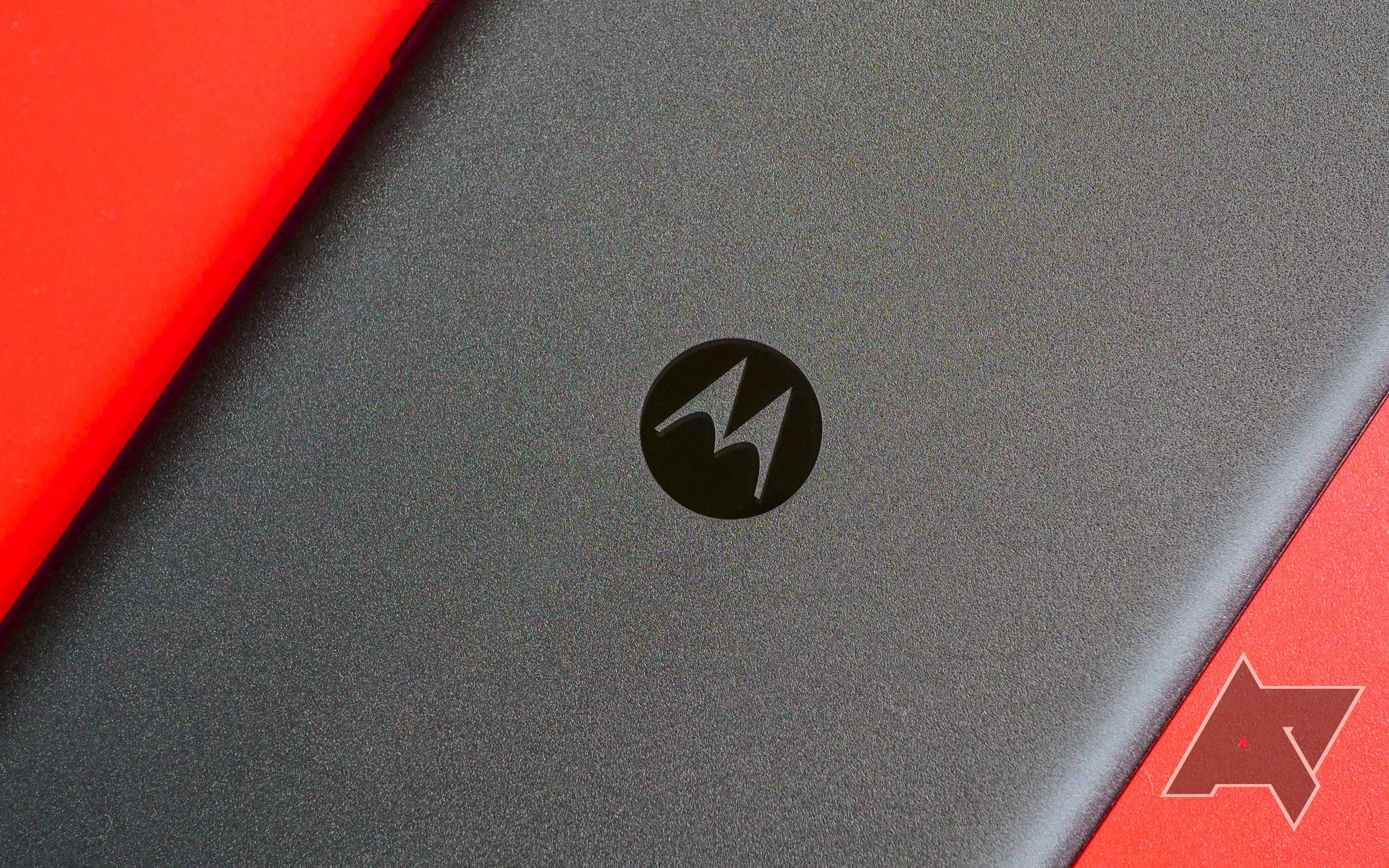 Previous Edge models have been sold through all three US networks, but this Edge+ is only coming to a select group of MVNOs, including Boost and Spectrum Wireless. At the very least, the unlocked model does support AT&T, T-Mobile, and Verizon, and you can activate it through any of those carriers — or Google Fi — through Best Buy. And thanks to that support, it should also work on any US MVNO without any issues.
Design and display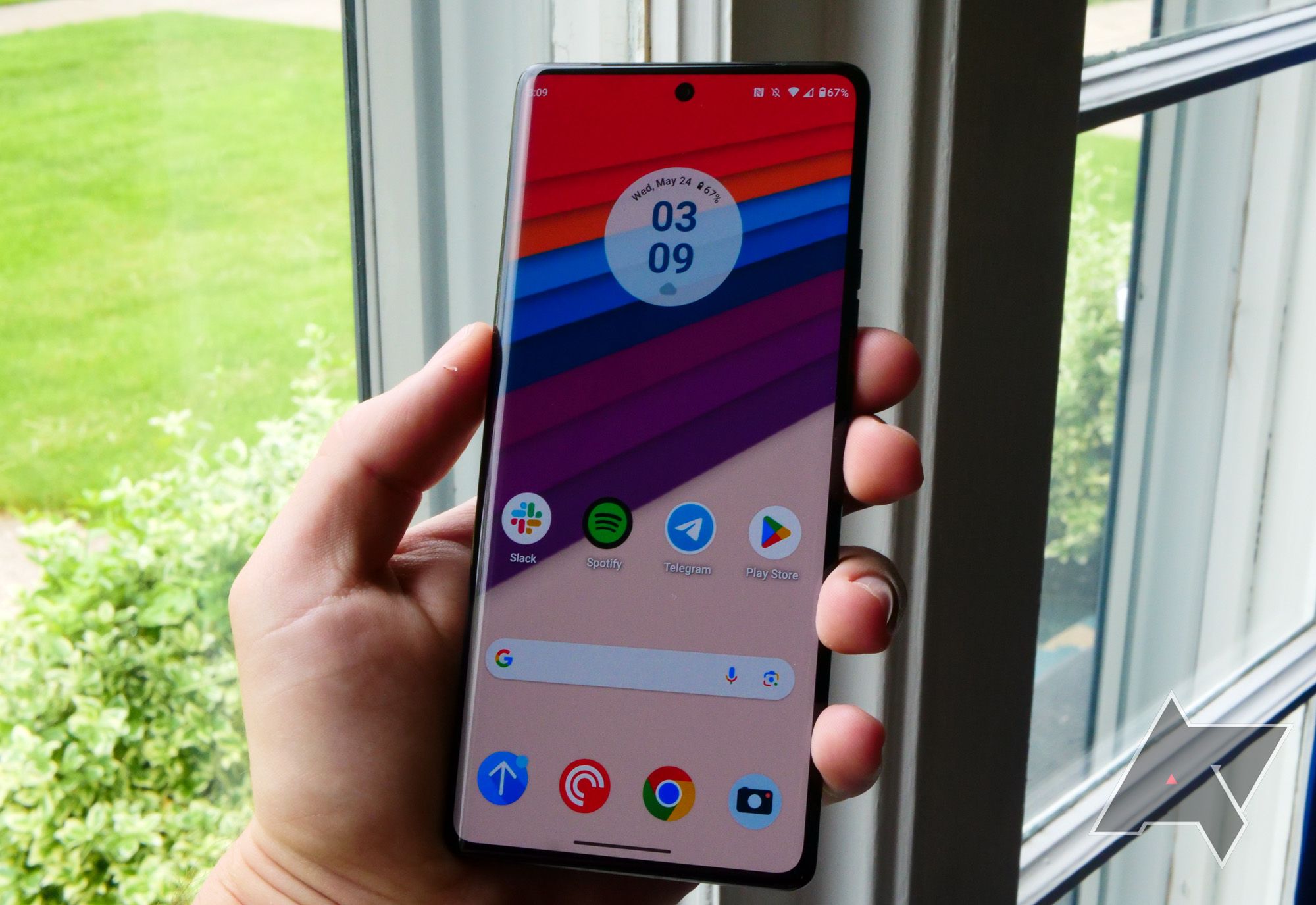 Motorola's Edge series has been around for a while now, and while all of its entries have largely used an identical design language, I'm not sure that's enough for the design language to stick out among a crowd. Samsung's Galaxy S23 series is easily recognizable, as is Google's camera bar on recent Pixel phones. But outside of the signature curved glass — something not even on every Edge-branded phone — Moto's design language here feels a bit anonymous.
That doesn't mean I don't like the look and feel of this year's Edge+, though. Unlike its predecessor, Motorola has taken the time to make this device feel worthy of its flagship status. The frosted glass has been replaced with a silky-smooth matte black surface that sparkles in direct light. It's reminiscent of the finish on recent OnePlus flagships. It feels great to the touch, but it also makes the phone about as slippery as a bar of soap. I couldn't keep count of how many times this thing flung itself off my couch or out of my pocket, and frankly, I'm not sure it could survive much longer without a case before serious damage becomes a risk.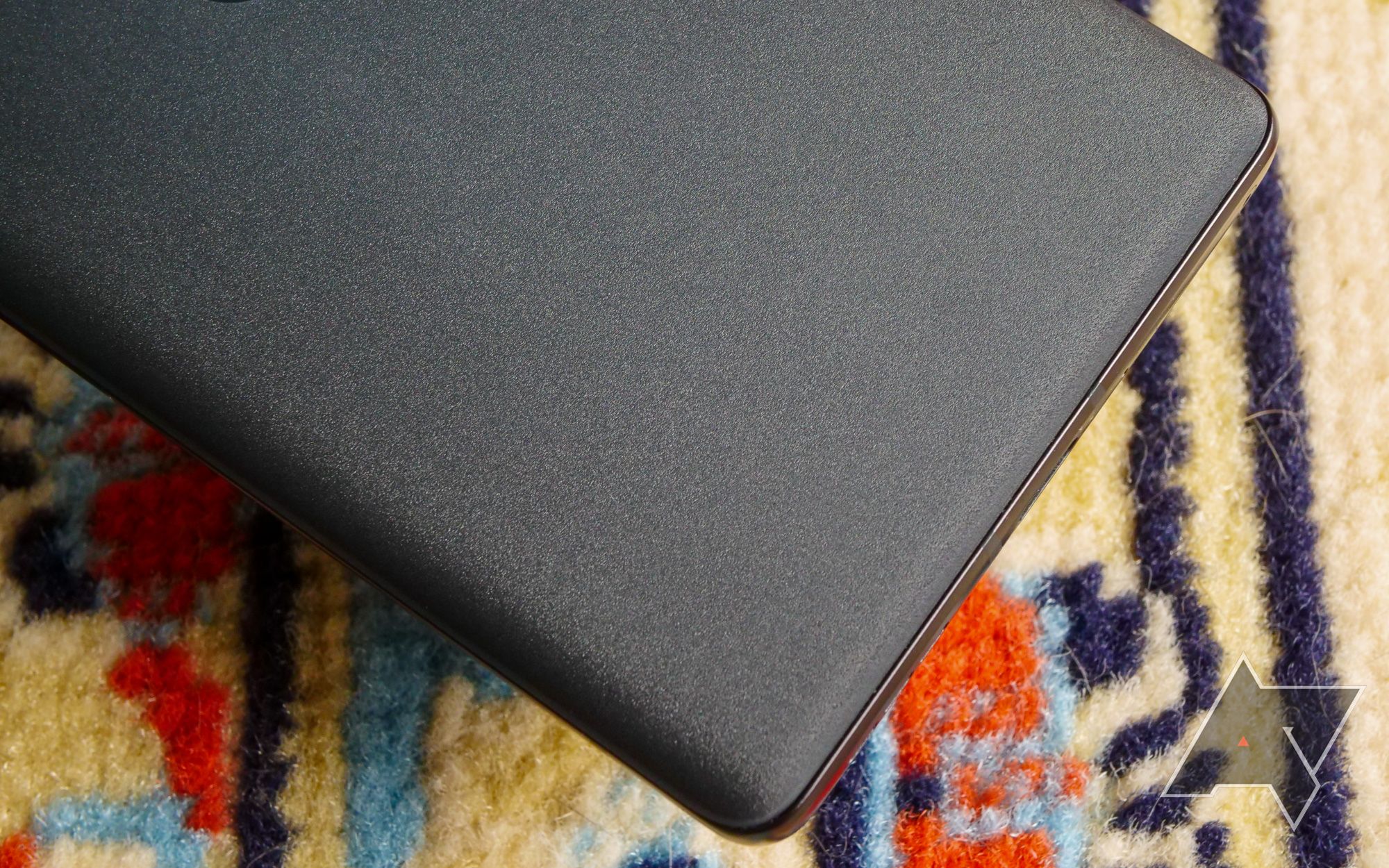 Likewise, Motorola replaced its plastic frame with an aluminum one — a no-brainer update on a phone series pushing four figures — and paired down its camera bump to something a little more subtle. It all adds up to a phone that looks far more refined than its 2022 counterpart, all while adding less than 10g of weight onto the final product.
As with other various flagships, Motorola has dialed back on the radius of its curved screens without eliminating them entirely. The result is something of a compromise, keeping edge lighting for notifications possible while helping to reduce accidental touches. That's reduced, though, not eliminated. Typing and scrolling through web pages felt fine in portrait mode, but I accidentally mis-tapped multiple times when watching videos or playing games in landscape. The Edge+ has not changed my mind here: curved screens must die.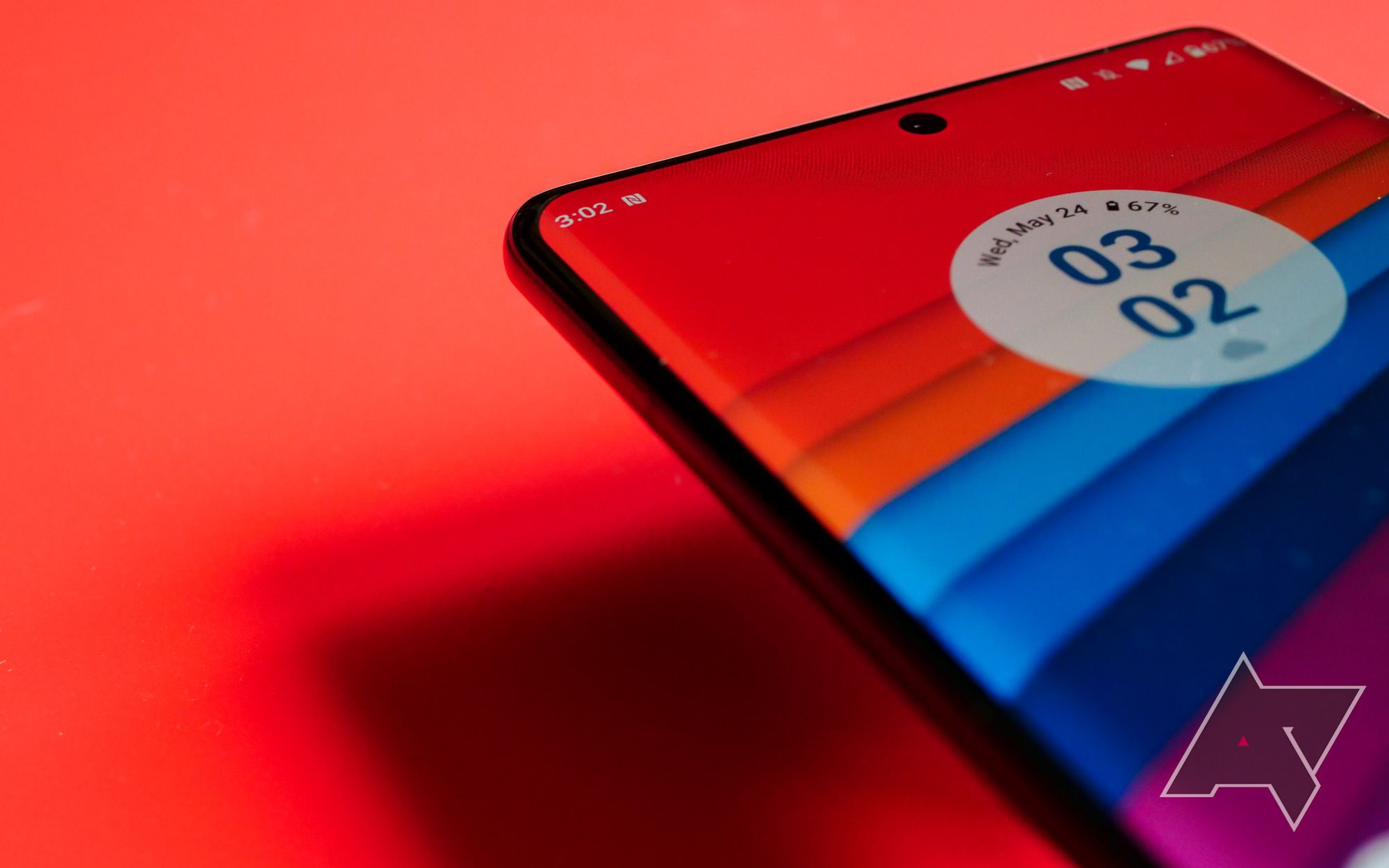 That said, I appreciate that Motorola leans into its curves, bending the top and bottom of the front glass into the chassis to give the entire device a softer, more rounded feel. It doesn't quite bleed perfectly into the aluminum frame, but it's a nice step towards competing with the best from Samsung and Google.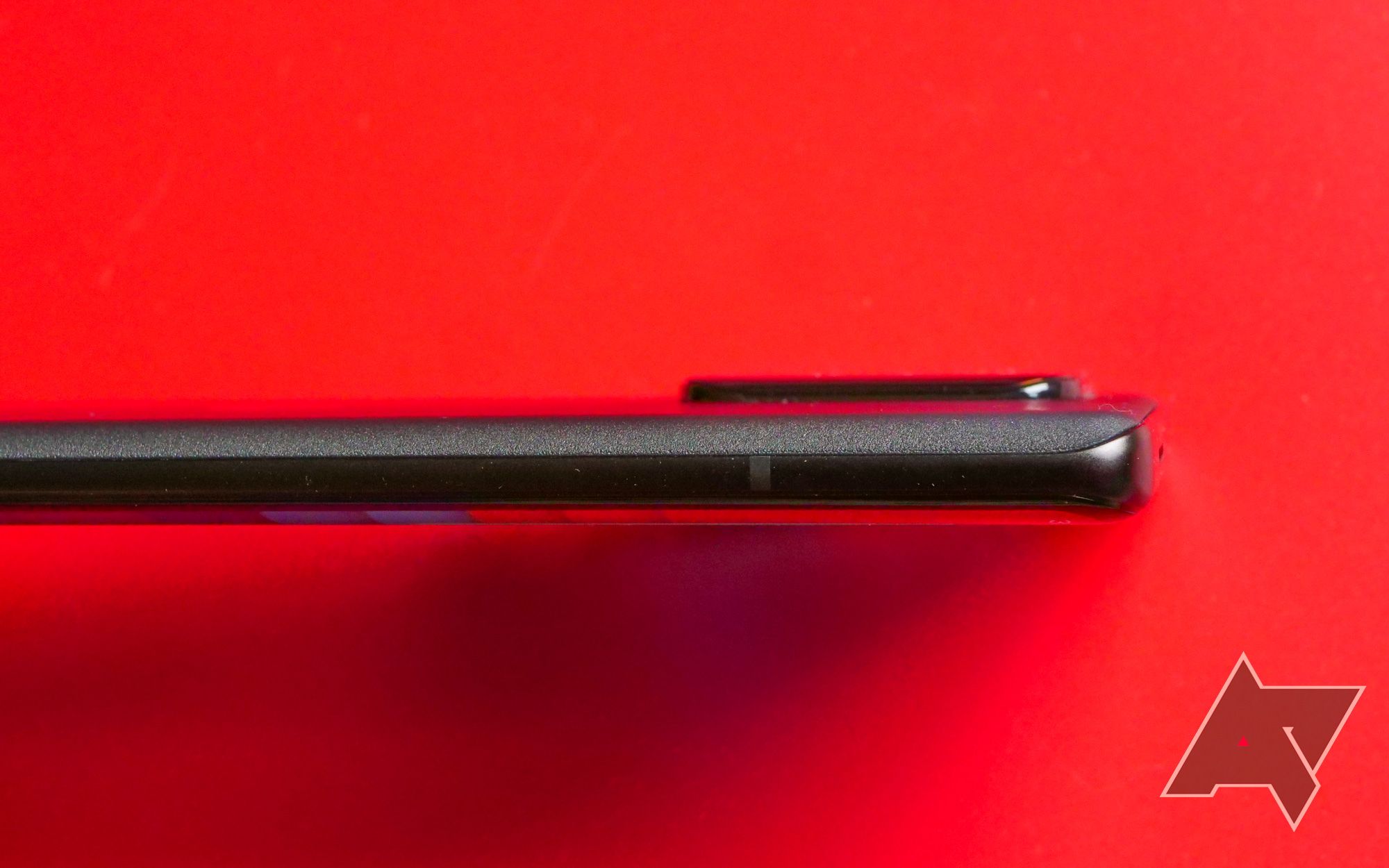 I've got no complaints about the display, either. It's a bright 1080p display capable of reaching 1,300 nits, though that number likely corresponds to HDR content. I didn't run into any issues viewing the screen in direct sunlight, and frankly, I never once missed 1440p. That said, colors can look a bit oversaturated at times, so you might want to consider testing out natural mode in settings.
After adjusting my settings, I'm seeing a solid 120Hz everywhere from the home screen to YouTube, with only Motorola's Peek Display software dropping down to 60Hz. The panel can run as high as 165Hz, though I find anything higher than 120Hz is unnecessary. By default, it runs in auto mode, which is capped at 120Hz while scaling down to 60Hz when appropriate.
Other hardware and what's in the box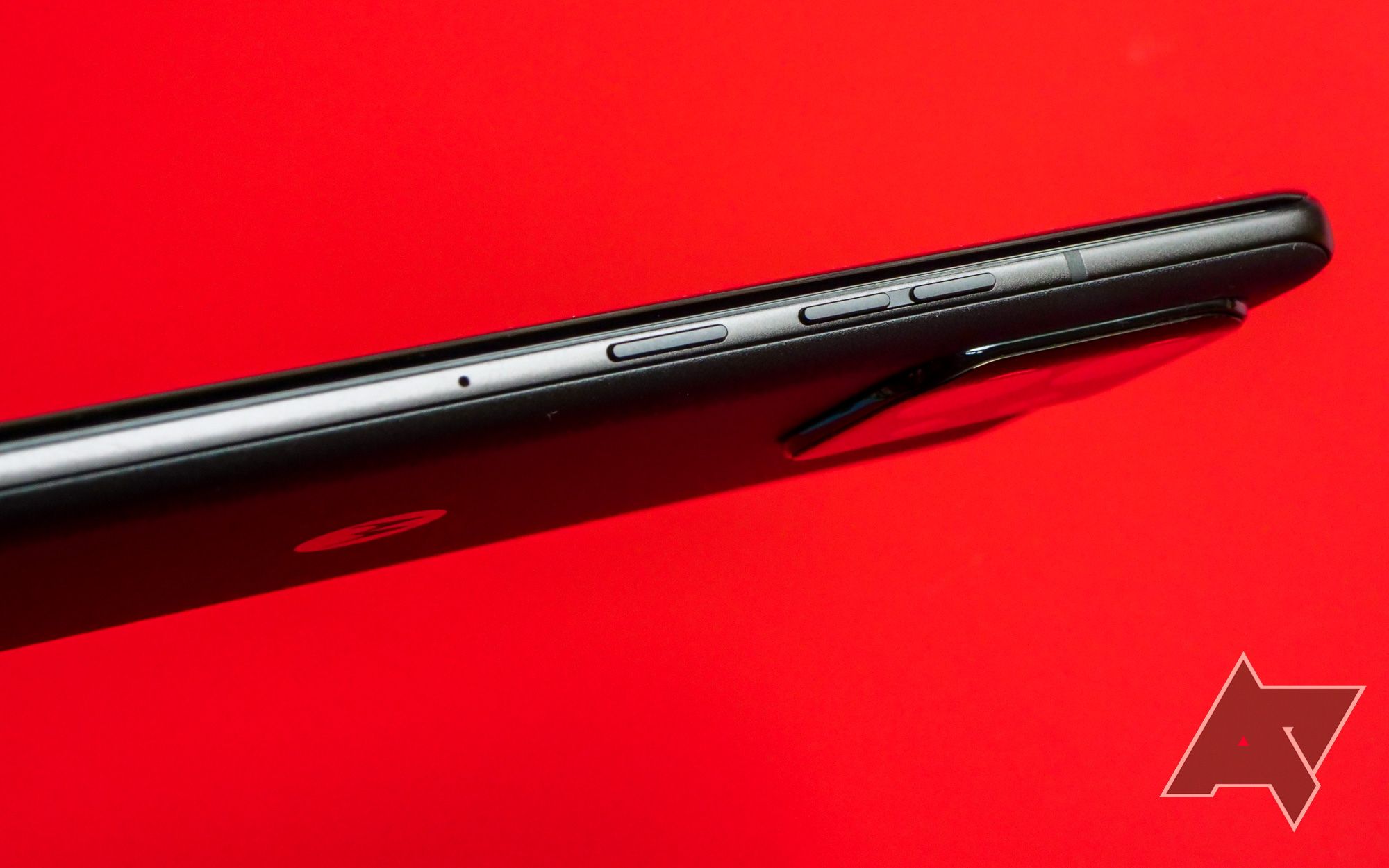 Motorola is using separate volume up and down buttons on the Edge+, which I prefer over a standard volume rocker. All three buttons — especially the power button — feel a little mushy, but it's nothing you wouldn't get used to over time. Likewise, I found the haptics here totally serviceable, though feedback is definitely a step below the best from Samsung or Google. It's not bad, but it's missing that je ne sais quoi that puts phones like the Galaxy S23 Ultra over the edge (heh).
I'm also not in love with Motorola's stereo sound implementation here. Like most modern smartphones, the Edge+ uses a bottom-firing speaker paired with the earpiece for its speaker setup, but to my ears, the balance is totally off. It's not just that the earpiece is quieter than the actual speaker (that much should be obvious), but at times, the two sounded out of sync to me, producing an echo effect that was particularly frustrating at louder volumes. I didn't run into this during my time with Motorola's ThinkPhone, so I'm surprised this was such an issue for me.
That said, the Edge+ does get plenty loud, so if you're less sensitive to this sort of thing than I clearly am, the phone should serve just fine for YouTube videos, podcasts, and even the occasional playlist sans Bluetooth speaker.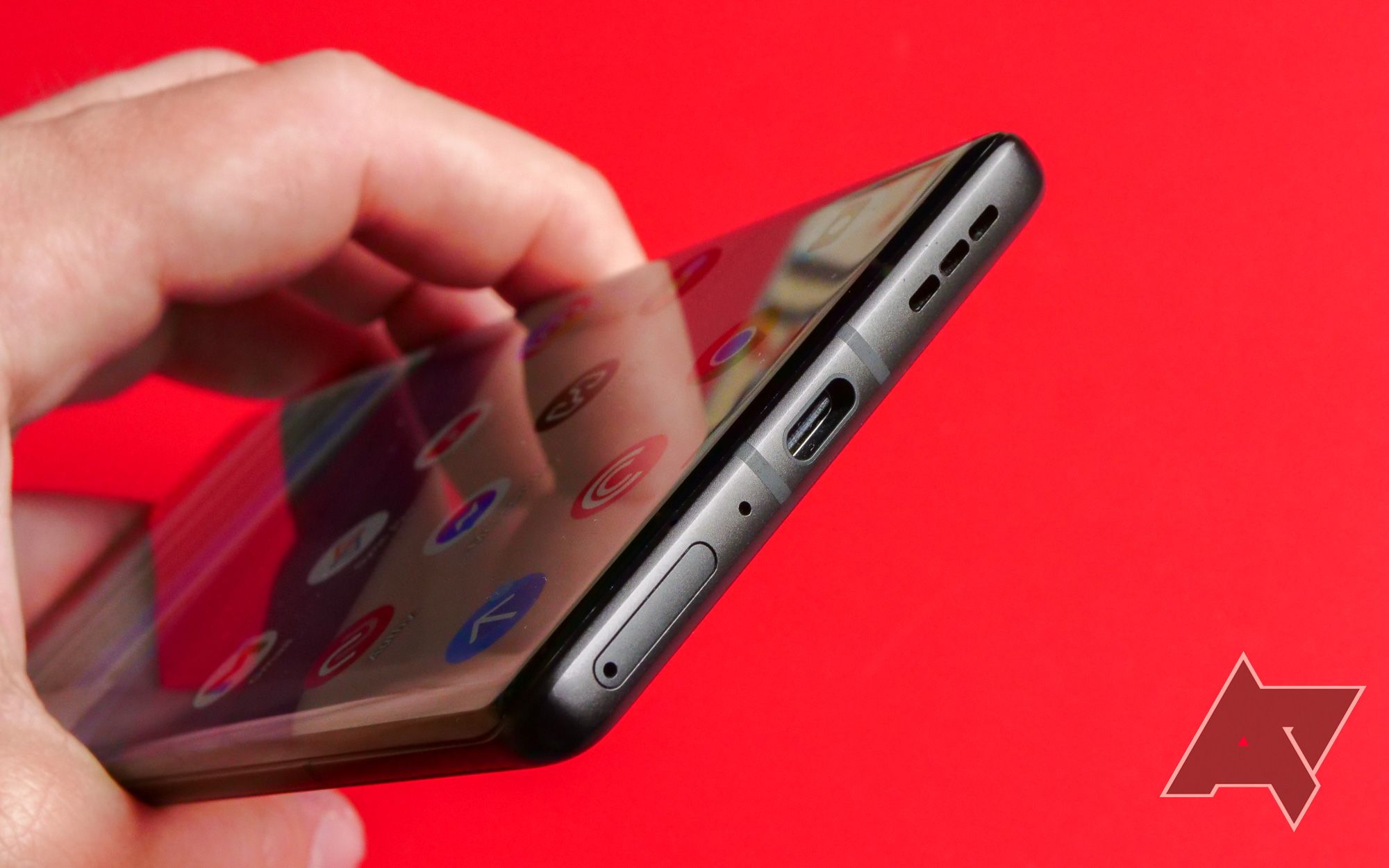 As usual, Motorola's in-display fingerprint sensor is a bit lower than where you'll find it on the competition. Personally, I wish it was higher up on the display, but I didn't find it too uncomfortable. It's also worth noting this device is IP68-certified, so despite its slippery body, an accidental fall in the pool this summer won't spell death for your new phone.
In the box, you'll find the phone, a USB-C to USB-C cable, an included 68W charger, a SIM tool, and the usual assortment of paperwork.
Software and performance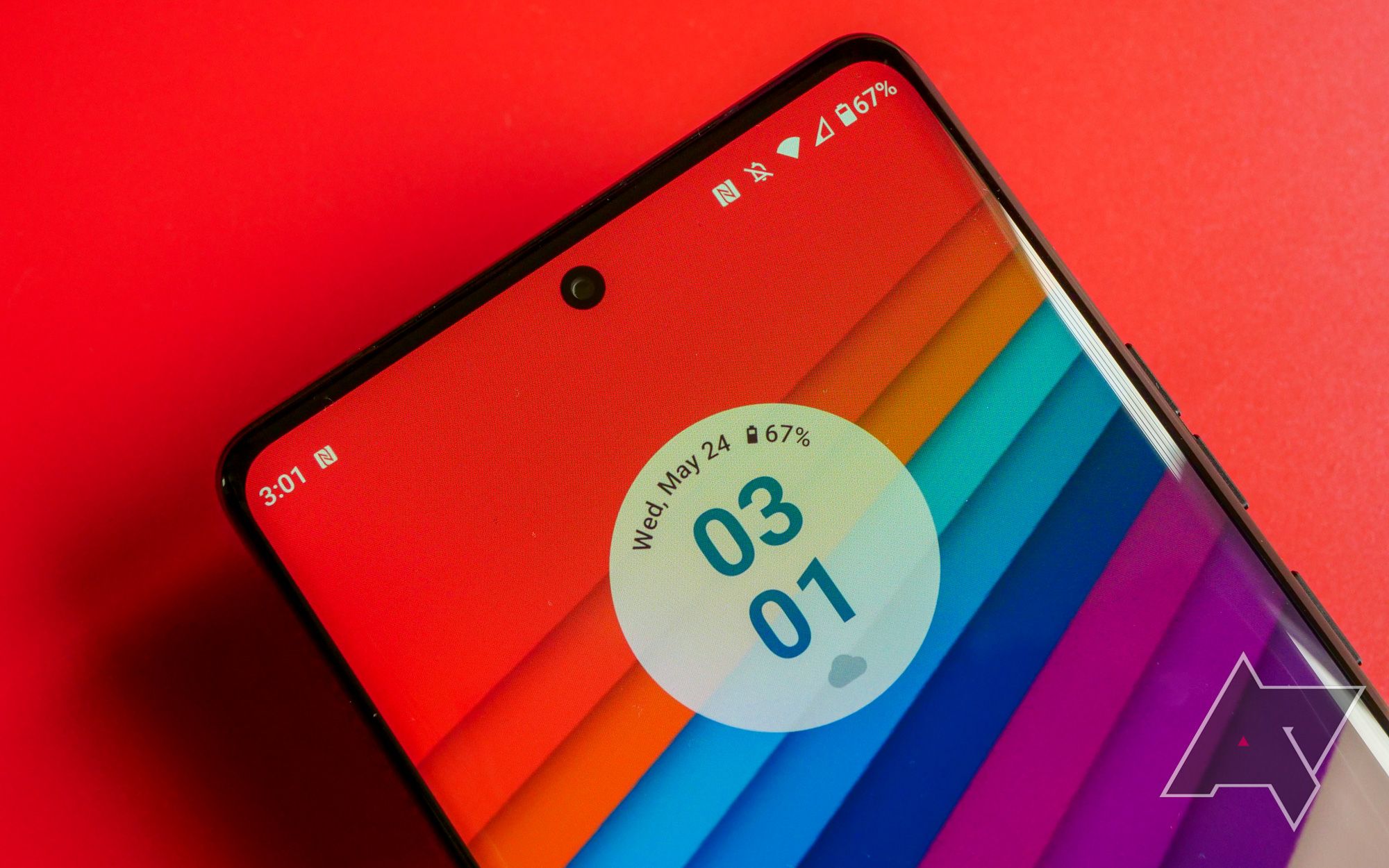 If you're unfamiliar, Motorola's software experience is likely the closest thing you'll find to "stock Android" these days, even more so than Google's own Pixel phones. The additions that are here are mostly for the better, such as some quality weather and clock widgets, or those long-running motion gestures to access the camera or turn on the flashlight. I've also come back around to Peek Display, Moto's version of an always-on display, after realizing that disabling notifications for my media apps in its settings turned off that annoying splash screen I complained about in my recent ThinkPhone review. Not bad!
But if you are coming from a Pixel, it won't take long until you remember just how spoiled Google's software has you. There's no ambient music detection, no call screening or any other phone tools to be found. If you're looking to clean up your photos, you'll have to rely on whatever's offered to Google One subscribers, and not what's included out of the box. It can feel a little underwhelming at times, but if you've found yourself bristling at Google's surprisingly heavy-handed approach to software these days — and you find yourself wanting for the era of AOSP-like Android builds — the Moto Edge+ can get you there.
There's also a touch of bloat to be found in Motorola's software, with a persistent notification prompting you to install some "recommended" apps appearing not long after you finish setting up the phone. You'll have to go through each page and, in some cases, actually uncheck certain options to bypass these unwanted apps, but once it's finished you'll be home free.
As far as performance goes, I have yet to find a complaint to aim toward the Snapdragon 8 Gen 2. This phone felt snappy in day-to-day performance for everything I threw at it, even when multitasking. The Edge+ barely broke a sweat while swiping back and forth between a few tabs in a browser as a YouTube video played in PiP mode. The only time I felt the phone get warm was while testing out Honkai: Star Rail, which ran as smoothly as you'd both hope for and expect.
Although Motorola didn't make as large of an announcement as OnePlus did last year, the company has upgraded its software policy for this year's Moto Edge+. This particular phone, much like the ThinkPhone before it, will receive three OS upgrades — bringing it up to Android 16 sometime after its 2025 launch — along with four years of security patches.
It was a necessary step to continue competing in such a tight market, but timeliness matters nearly as much as the promise to provide new software. I'm hoping Motorola speeds up its updates on devices like the Edge+, especially considering it's being sold primarily as an unlocked model.
Camera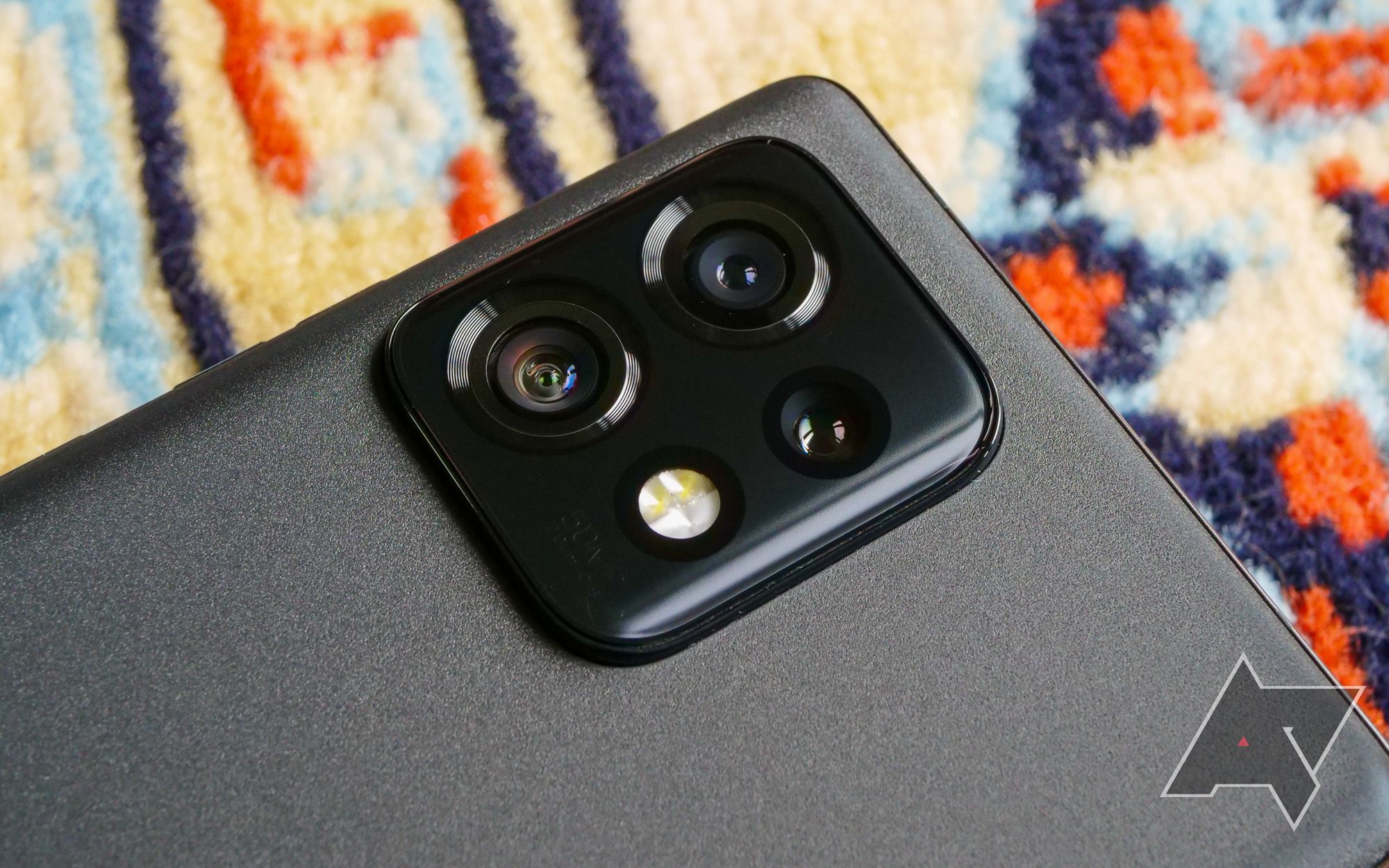 Motorola's cameras have been the company's weak spot for some time now, with nearly every one of its competitors managing to outperform anything branded with an 'M' on its back. The Moto Edge+ doesn't necessarily change the narrative here, but it is the first time in a long time that one of the company's camera systems can stand on its own.
The primary 50MP f/1.8 lens is perfectly capable, matching the main sensor on the Galaxy S23+ in most technical regards (even the sensor size — 1/1.5″ here vs. 1/1.56″ on the S23+). When taking photos outdoors in daylight, or in well-lit indoor environments, I found the images looked, well, pretty good. I'm not sure they "wowed" me as much as the best from Google or Samsung, but the colors seemed accurate and punchy.
Likewise, at times, some detail did get a bit too oversharpened, a pretty common complaint I have about modern smartphone cameras. But aside from that, I found the vast amount of images I captured were Instagram-ready on the first try.
Motorola is perhaps missing out on the computational photography skills employed by Google, but the processing that is here is competent enough to please most "normal" users. And it's not like the Edge+ completely misses out on modern trends. To no one's surprise, that 50MP sensor produces binned 12.5MP images, just like most modern flagship phones.
In less-than-ideal circumstances, I still think the Edge+ can scrape by, though it's a lot more dicey. The macro mode is pretty solid, especially compared to what I've seen from the company's other phones. It's utilizing the ultra-wide lens rather than employing a low-res dedicated sensor, and frankly, thank god for that.
That ultra-wide sensor isn't anything to write home about, but it'll get the job done in a pinch. At 114˚, I'm reminded of the Pixel 7's performance — the images are certainly wider, but it's not quite as obvious as what you'll find on other, wider lenses.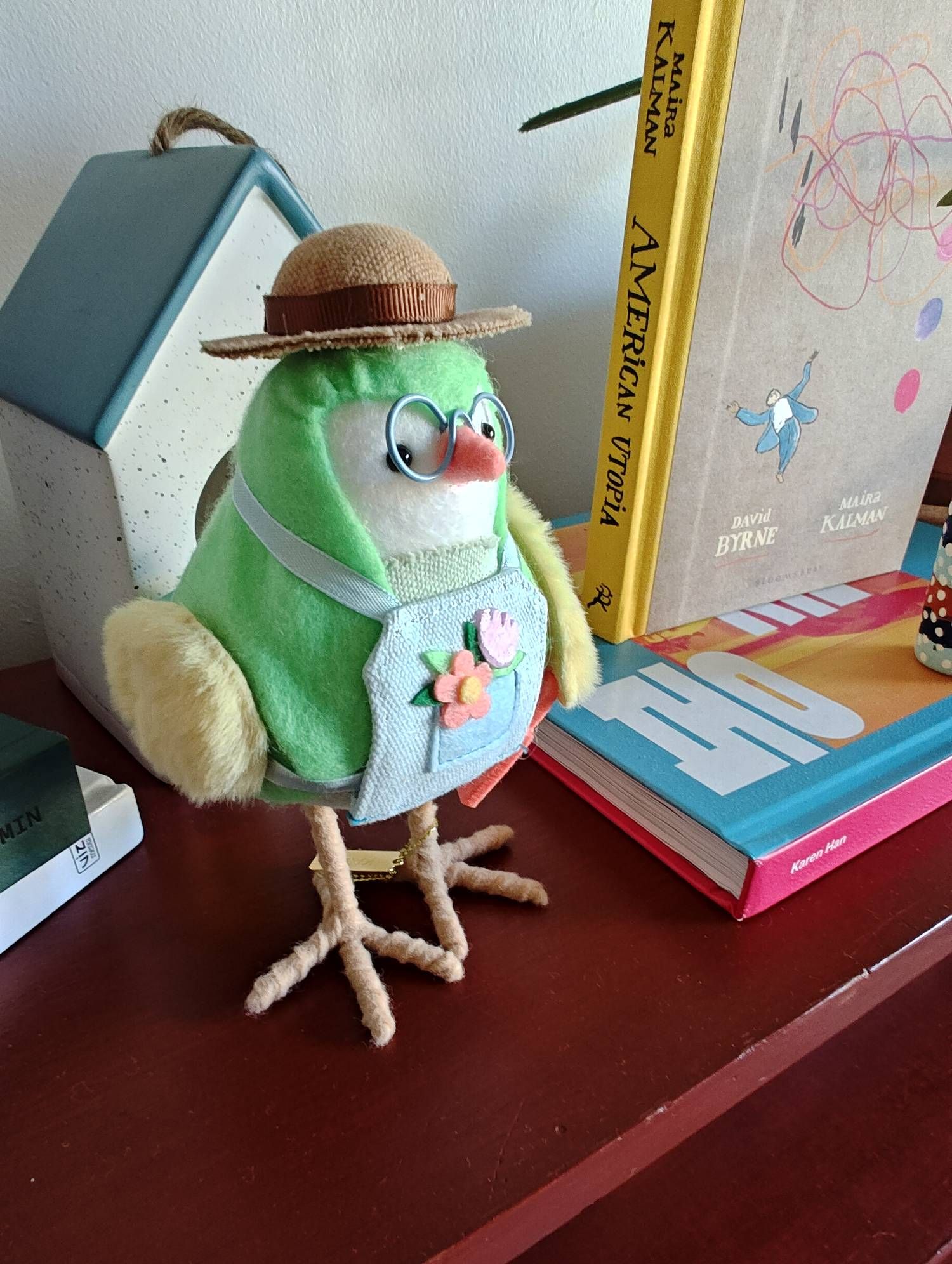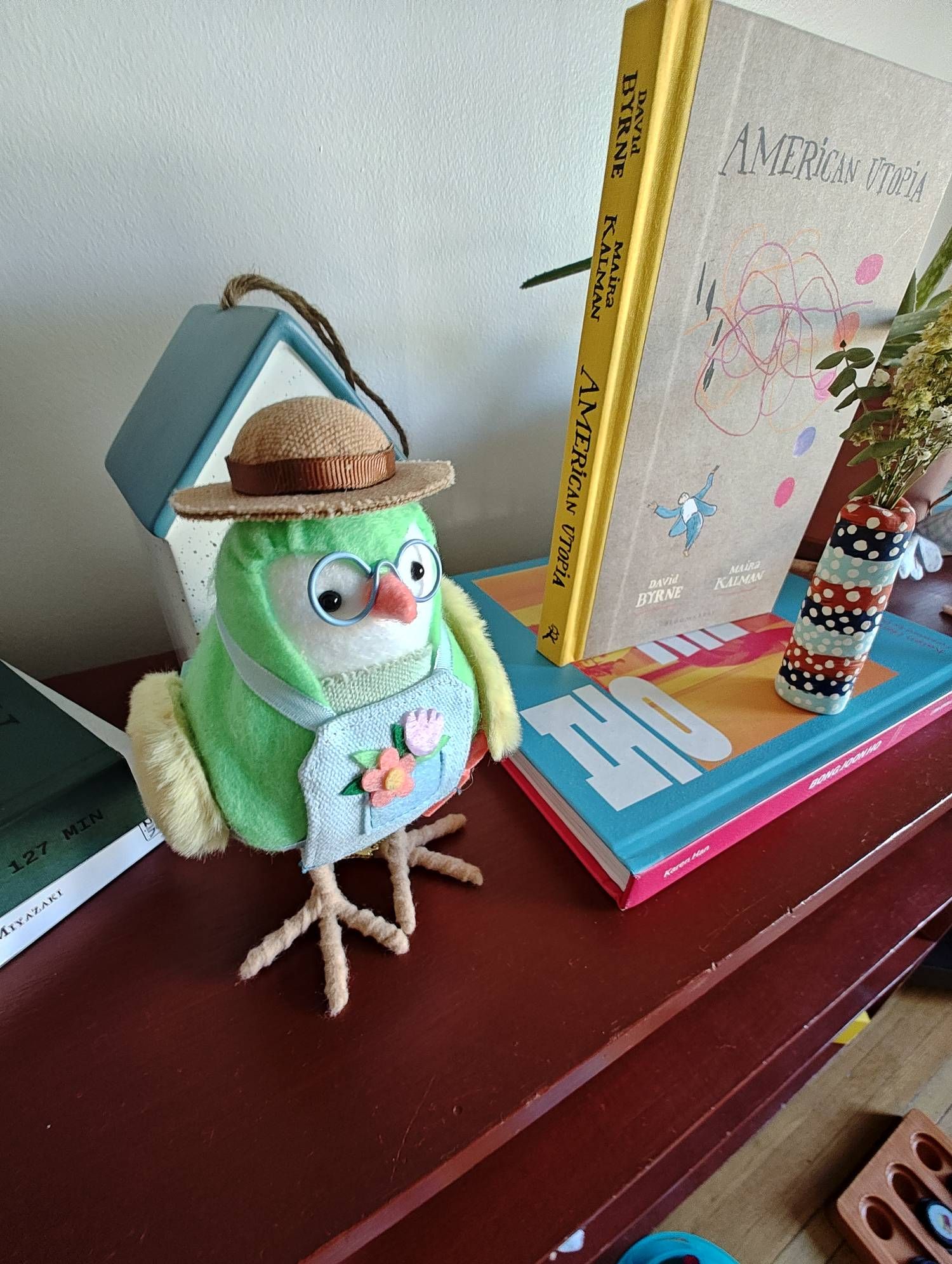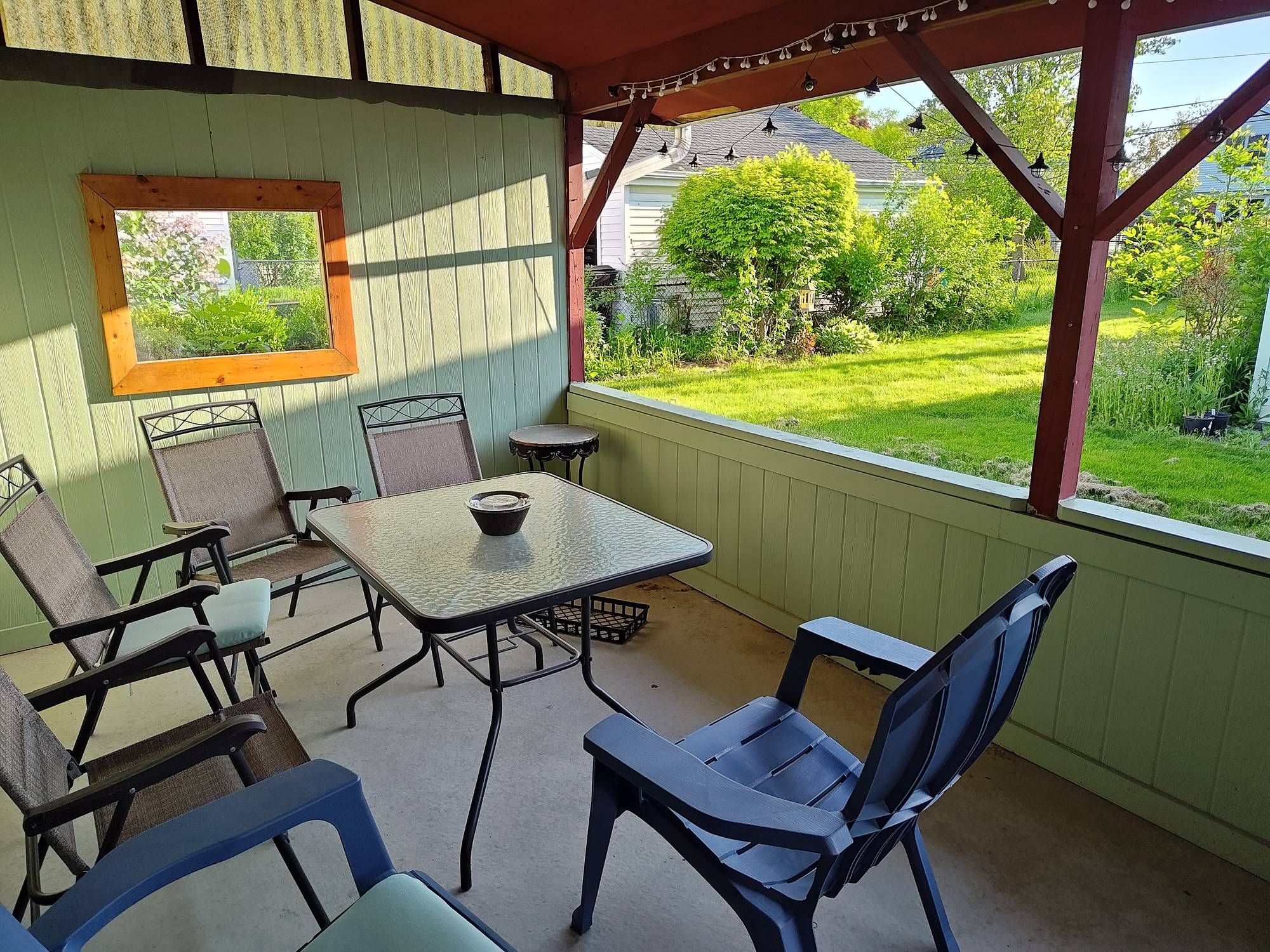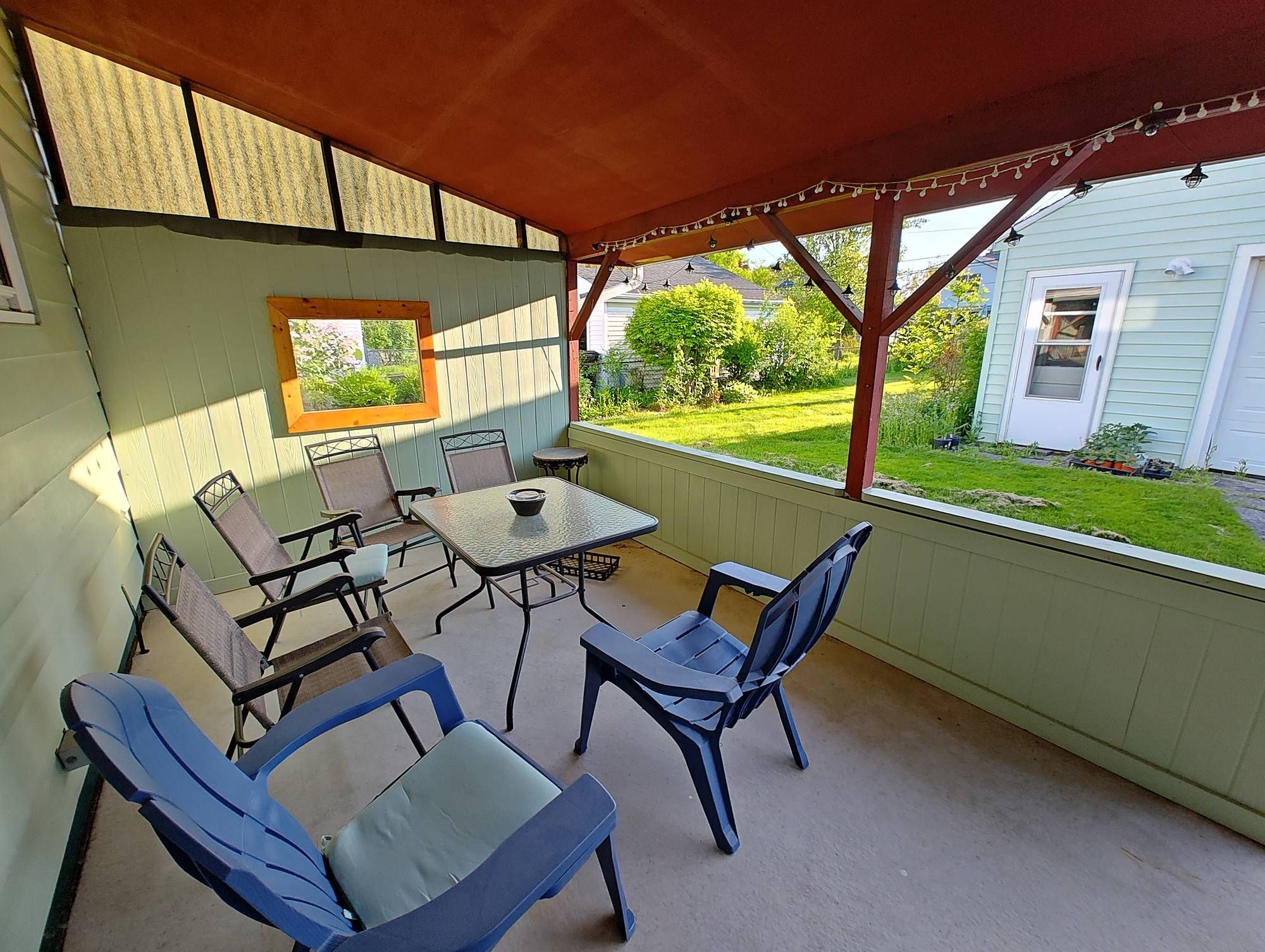 The same can be said for the telephoto lens. At just 2x, you won't be capturing far-away shots with this sensor, and even then, some of the shots I did get left me pretty unimpressed. What's worse, though, is Motorola's digital zoom. Although OIS on the primary camera works great, the Edge+ simply can't recreate the Pixel 7's impressive stability when cropping in on a subject. The result is a blurry mess of a photo almost every time.
As for night mode, I'm reminded of earlier versions of Google's Night Sight. Shots seem unrealistically bright, turning images taken in near-dark environments into artificially lit spectacles. Photos taken during dusk are more usable, but they remain untethered from reality, appearing as though they were captured much earlier in the evening than they actually were.
I also tried Motorola's selfie camera out at night, which — bizarrely — mixes the phone's usual processing with a constant bright white border to illuminate your face. Frankly, it hurt my eyes, and I was squinting in every photo I took with it. In normal lighting, though, the selfie cam does just fine.
All told, I think anyone looking for social media-ready images will still prefer the Pixel experience, while companies like Samsung and even Sony will continue to cater to hobbyists looking for more control in their images. But if you aren't picky — if you're just looking for something that will work fine most of the time — you could do a lot worse than the Moto Edge+. It's right in the same wheelhouse as OnePlus: good enough if you can handle some major caveats.
Battery life
Keeping in mind that my Moto Edge+ has been locked to 120Hz since I took it out of the box, I've nonetheless found this year's phone to be an absolute battery champ. After taking the phone off its charger Friday morning, I used it during a two-day period of light-to-moderate intensity, before finally plugging the phone back in at 15% in the wee hours of Sunday morning. This gave me nearly six and a half hours of screen-on time, but I'd bet that number could reach even higher highs depending on your use.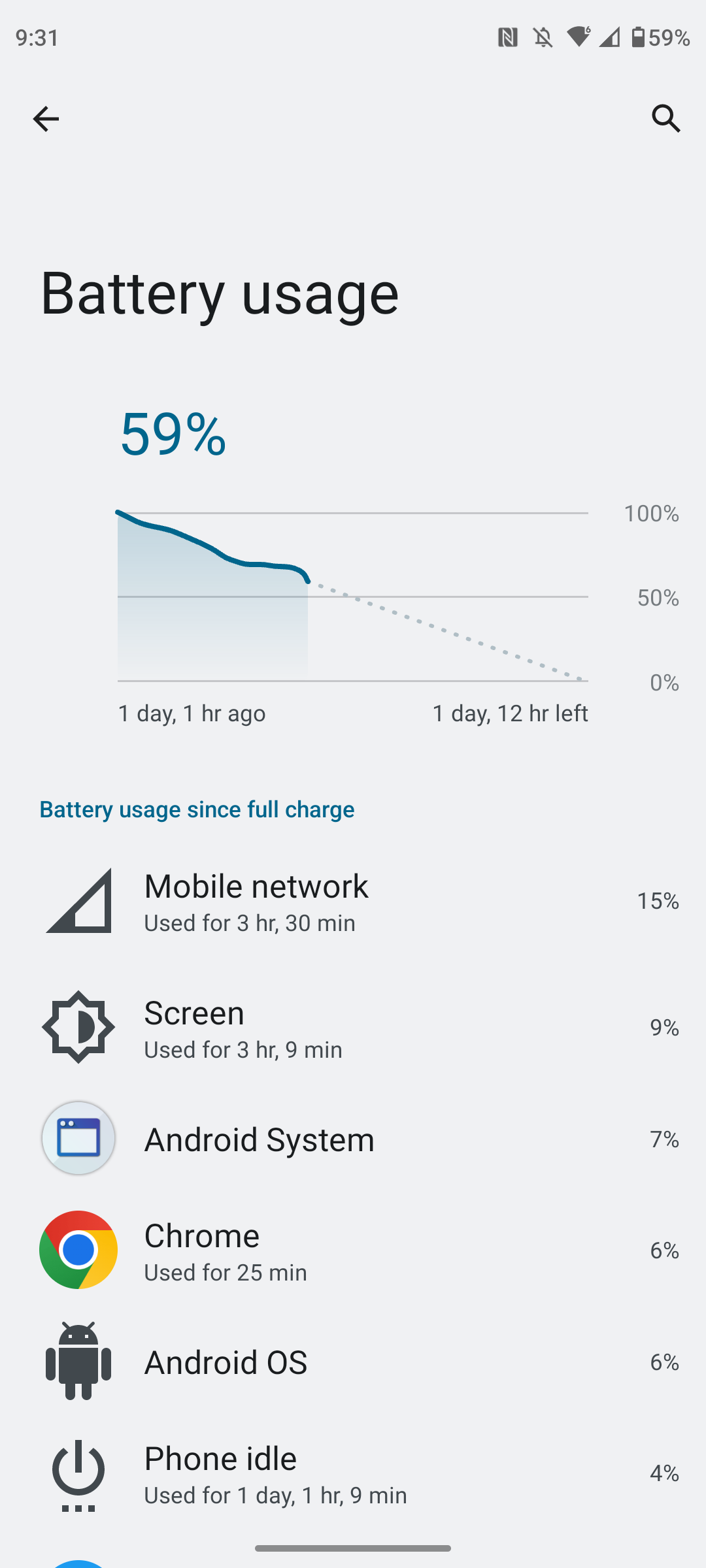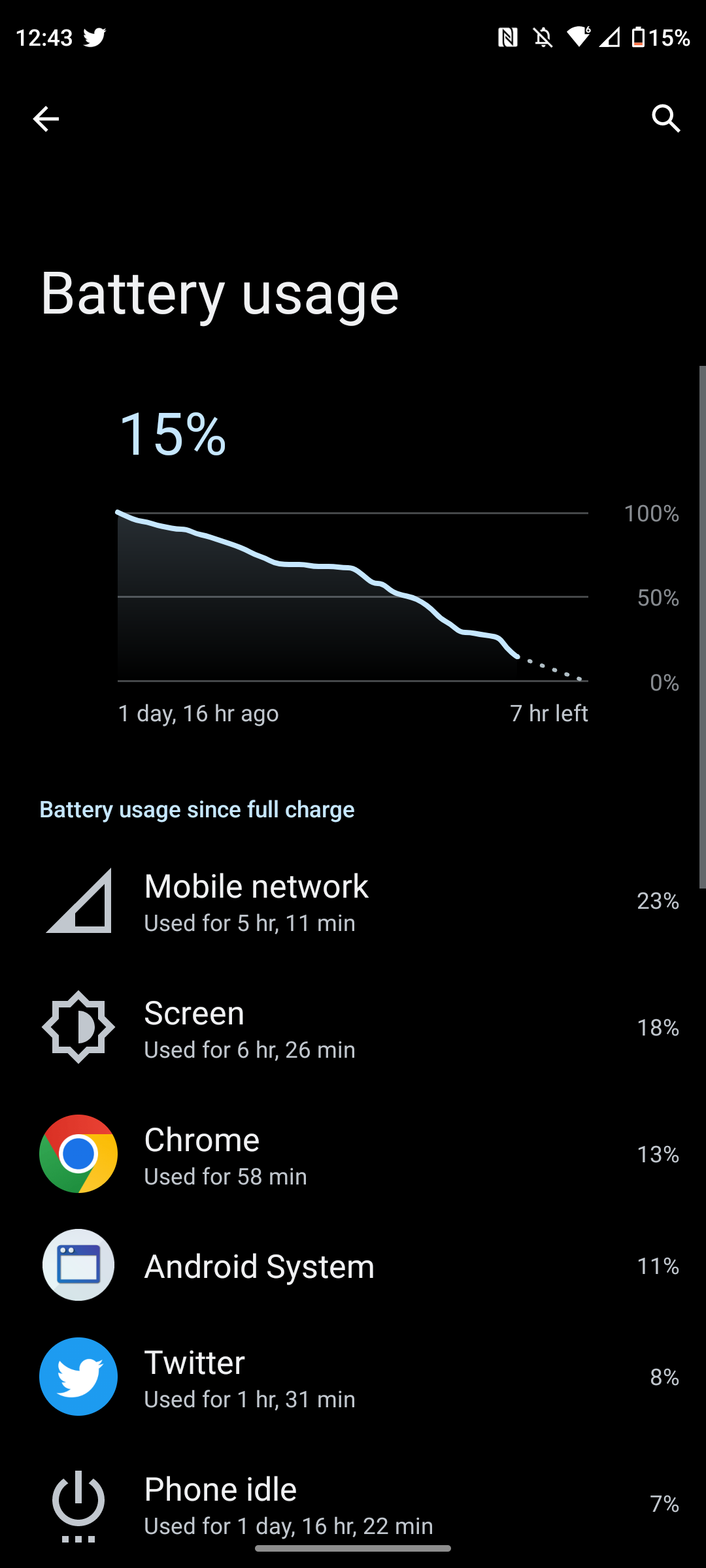 Left: Friday night. Right: Saturday night.
At this point, anyone following the smartphone industry knows the Snapdragon 8 Gen 2 is power-friendly, all while providing plenty of performance for whatever mobile game is lighting up the charts. Coming from a phone like the Google Pixel 7a — where the battery life estimates fells somewhere between "fine" and "disastrous" — the experience provided by the Moto Edge+ felt like a breath of fresh air.
As mentioned, Motorola provides a 68W fast-charger in the box with this phone, just as it recently offered with the business-friendly ThinkPhone. It's capable of charging the 5,100mAh cell in this phone in well under an hour — perfect for topping up before a night out. Combined with 15W wireless charging and 5W power sharing, the Moto Edge+ has just about everything you'd want when it comes to power management.
Competition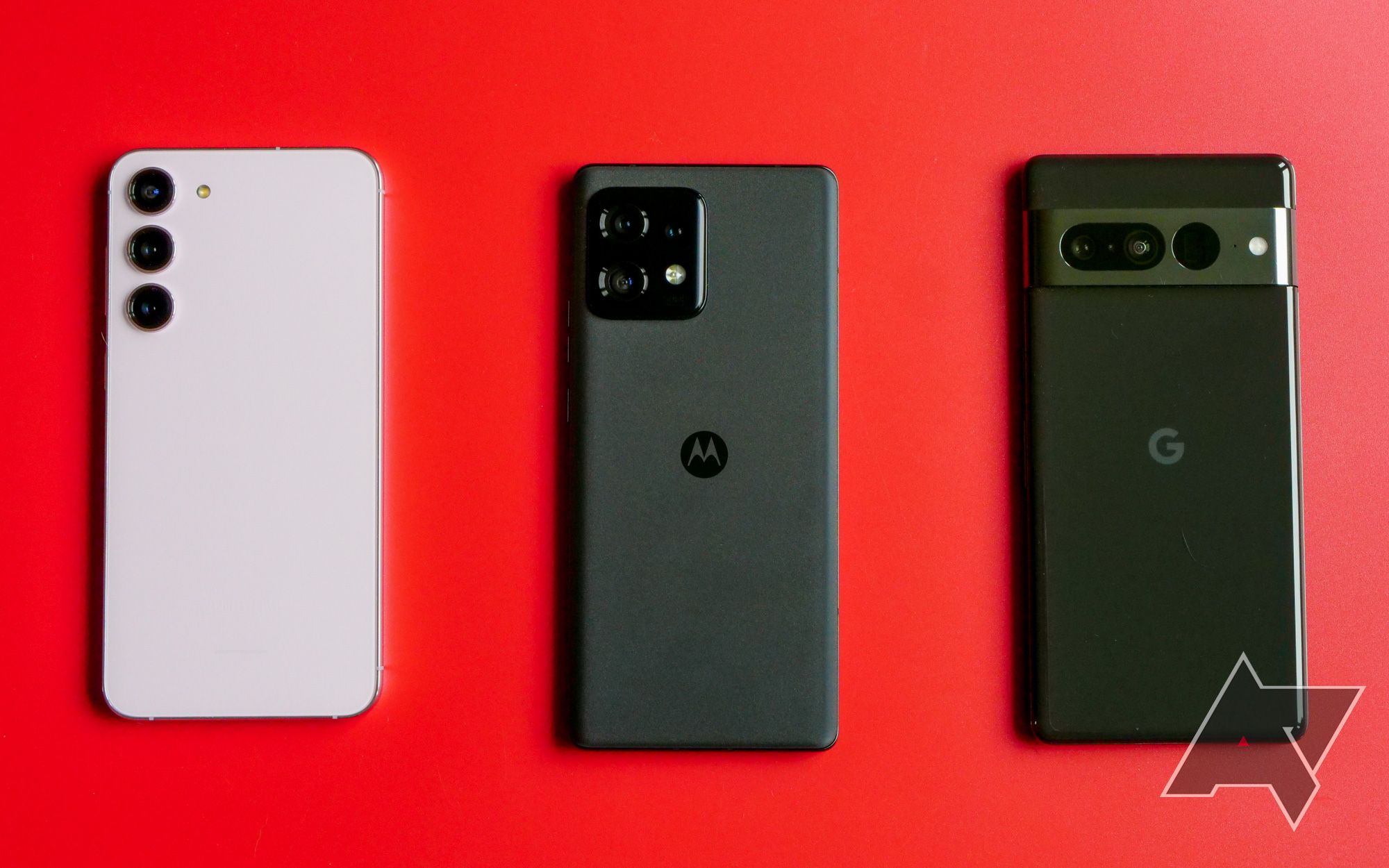 If you're looking at spending less than $1,000 on your next smartphone — and you want a device worthy of being called flagship, the Moto Edge+ has some stiff competition. The Pixel 7 Pro is the most obvious alternative here, but Samsung's Galaxy S23+ could win over some potential buyers as well, so long as they're willing to push right up to their maximum budget.
Let's start with the Pixel. Google's 2022 flagship remains a great device months after its initial launch, especially if you can find it on sale. In some ways, it's almost the complete opposite of this phone, placing a greater emphasis on excelling at photography and software enhancements while lacking the impressive battery life provided by Qualcomm's latest chipset (#TensorLife, right?). Hell, even the glossy glass back stands in stark contrast to Motorola's smooth, sparkly finish.
To that end, I think you already know if you're leaning towards the Pixel 7 Pro over the Moto Edge+. If you value computational photography, or find AI-powered tools the future of smartphones as we know it, Google has you covered. If you simply want something to last an entire day while nailing most of the basics, I think you'll be served well here.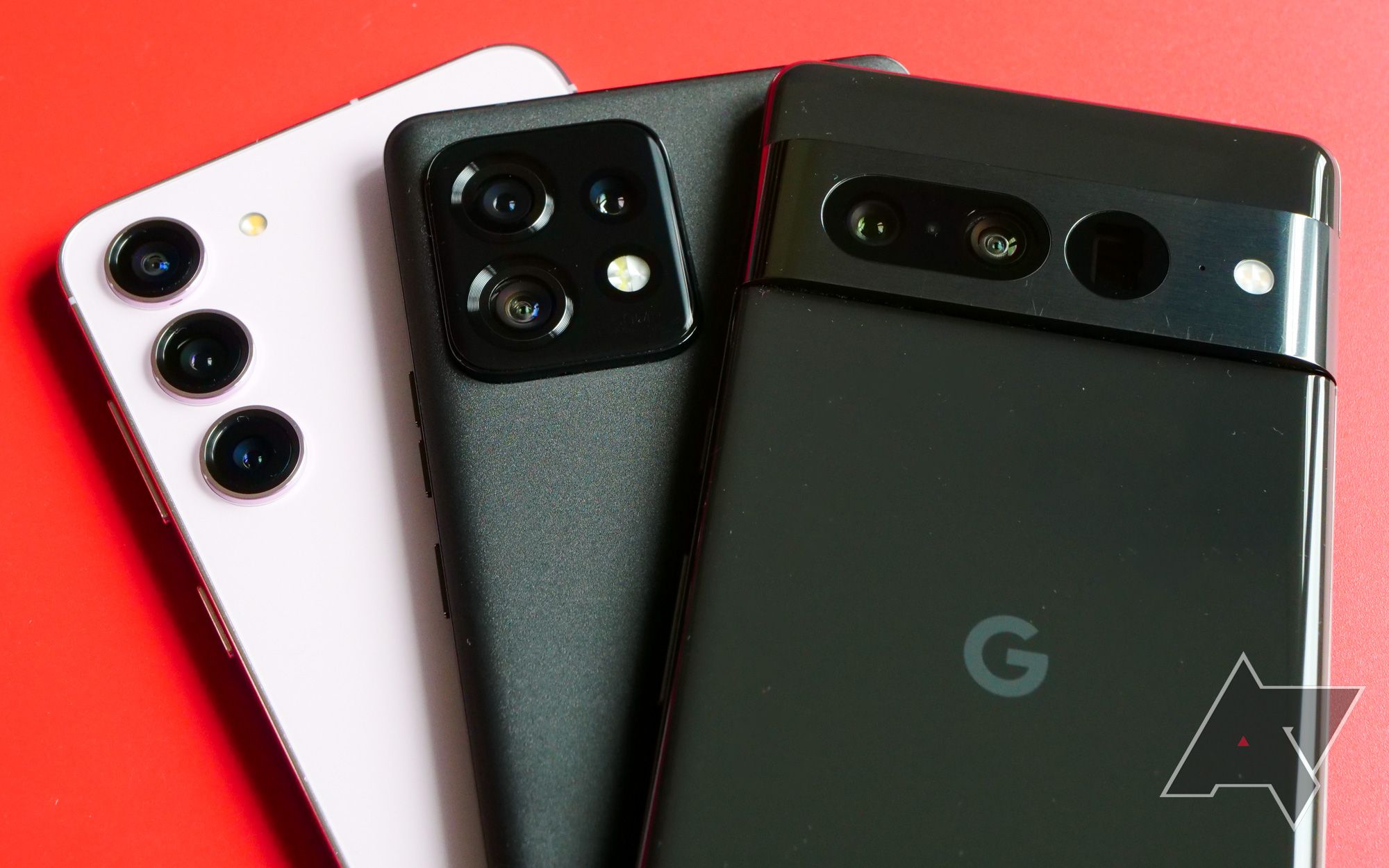 Then there's the Galaxy S23+. Samsung's red-headed middle child occasionally gets overlooked for its siblings, but at $1,000, it's a great device for those of us who find the S Pen a waste of space. Not everyone's a fan of Samsung's photo output, but I think the S23+ manages to beat this year's Edge+ in imaging quality. And it has flat sides — another win for Samsung.
And because Motorola tends to release dozens of phones each year, I'd be remiss if I didn't mention the ThinkPhone. Made out of a collaboration with its parent company, Moto's business-focused device is another surprisingly solid option — plus, it's $100 cheaper. That said, with an older processor, a divisive carbon fiber finish, and a much worse camera system, you're likely better off picking up this phone instead. Sorry, ThinkPad fans.
Should you buy it?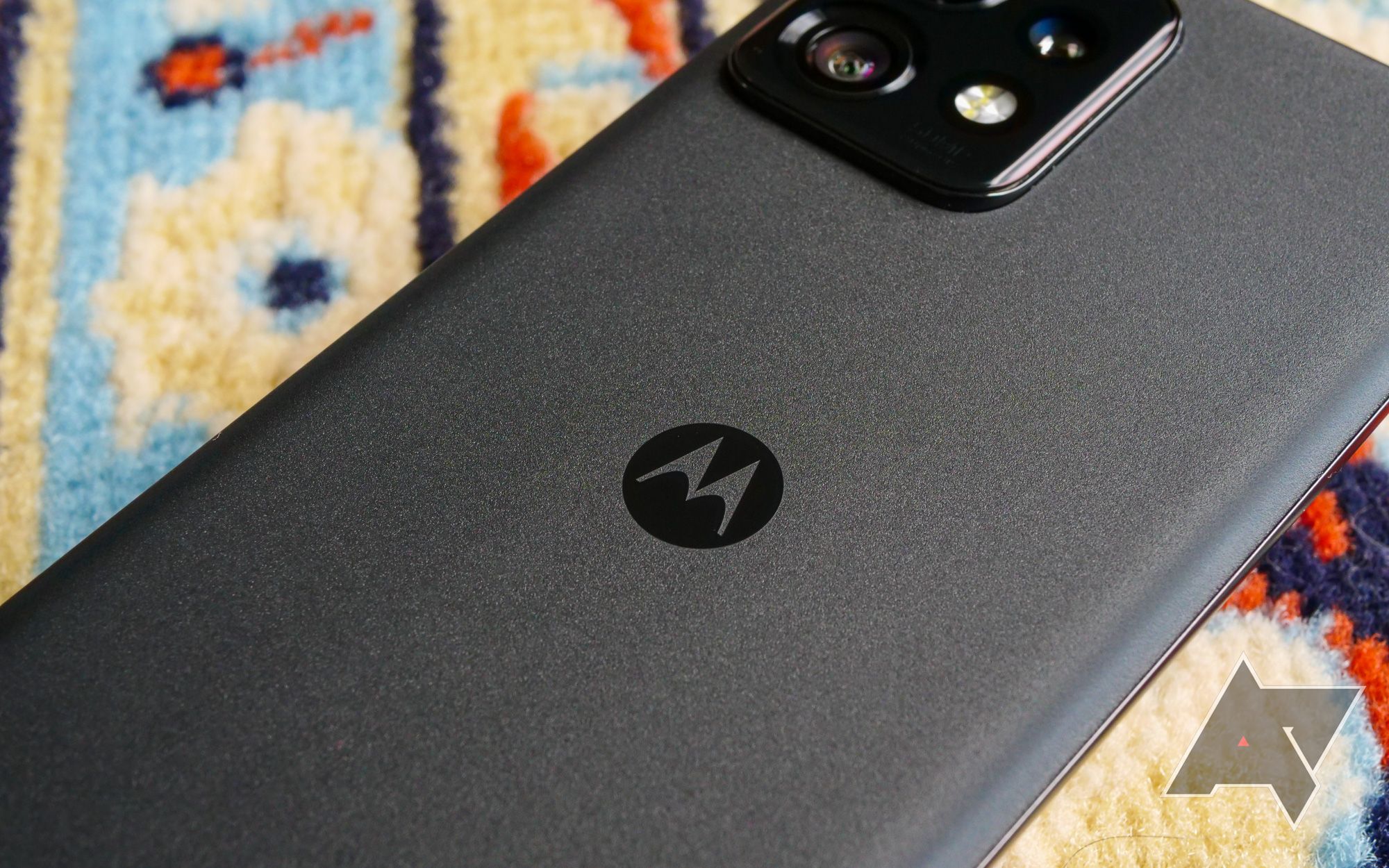 If Google, Samsung, and OnePlus aren't doing it for you these days, I think you'll find yourself pleasantly surprised by the experience Motorola has cooked up here. Excellent performance, a quality display, and a slick — in more ways than one — design makes for a solid smartphone, and the $800 price point for a single 512GB tier is hard to ignore. It's not cheap, per se, but as an unlocked device, it manages to undercut the competition by a couple of hundred dollars.
Obviously, this phone isn't perfect. The camera is competent — certainly a step above other recent Motorola phones — but it fails to reach the highs of what you'd expect from a modern Android phone, especially once you swap lenses. Likewise, readers have plenty of reason to be suspicious of the company's software policy; its poor reputation in that area precedes it. And a couple of cut corners, like the so-so speakers or its mushy power button, could turn the pickiest of buyers off.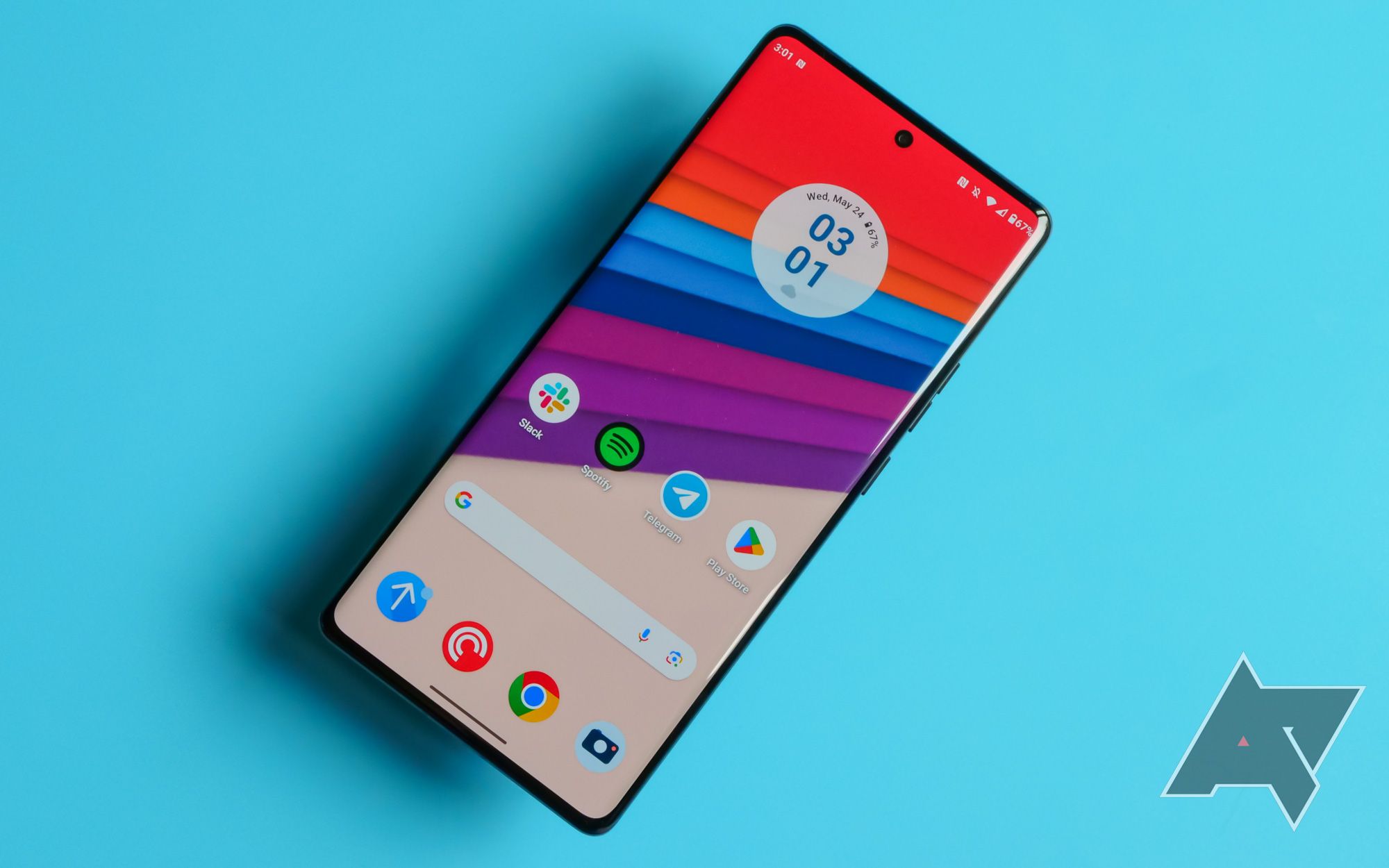 But frankly, I'm two-for-two on Motorola's recent flagship smartphones. Although I still prefer the overall experience offered by the Pixel 7 Pro, it's hard to blame anyone for opting to stick with the cool thermals and excellent battery life of the Moto Edge+ by trading away that quality camera system. If Motorola can keep up this quality on its future smartphones, we could be looking at a surprise candidate behind some of the best Android phones on the market today.