WhatsApp announced today
via its official blog
 the launch of its new
Channels
feature in over 150 countries as well as the addition of thousands of new channels.
WhatsApp Channels have been in the works
since earlier this year as a way to give users a
private
outlet to receive updates from organizations, sports
teams
, artists, and notable figures.
Channels are different from the regular chats you are used to on WhatsApp, as they are separate and whoever you choose to follow is not visible to others, hence their focus on privacy. WhatsApp users have the option to browse through various channels and decide to track those that interest them.
Through the feedback received from those that were privy to using this feature in one of the ten countries were it was originally being tested, the company worked to add the below updates to the Channels feature just in time for the global release:
An enhanced directory

that makes it easier to find channels to follow, filtered by country.

Reactions

, so you can give feedback on Updates using emojis.

Editing

, so admins can make changes to their Updates for up to 30 days.

Forwarding

, so you can share Updates with others and they can easily find the channel.
WhatsApp also promises that more features will continue to be added as the Channels features grows and expands, and that these features will be based directly on user feedback. One of them will be the ability for anyone to create a channel, similar to the way this same feature currently works on Instagram.
The WhatsApp Channels rollout appears to be staged at the moment in the latest version of the app. Once available, Channels that you can follow can be found in the new "Updates" tab, including the official
WhatsApp Channel
which you can follow to stay up to date on any new additions to the app.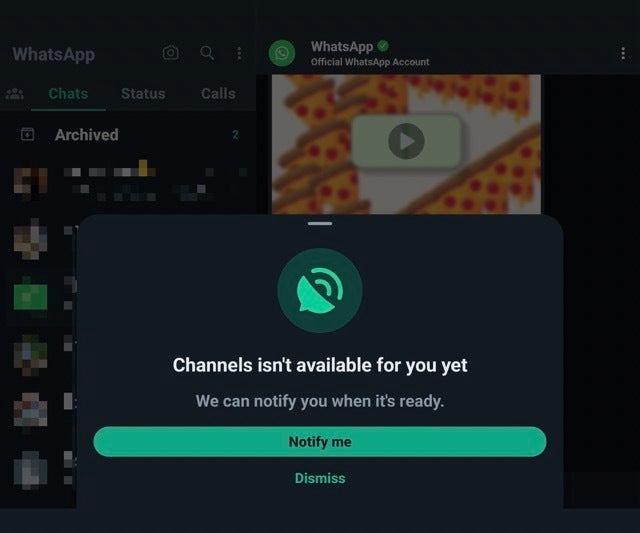 However, if you still don't have the feature and don't want to keep checking to see when it's available for your account, you can click on the
WhatsApp Channel
link — or any channel link for that
matter
— and you should get a popup within the application with an option to be notified when it's ready.